Sysmex, which considers human resources to be an important management resource for achieving sustainable growth, is promoting initiatives that are aimed at progressing from "Diversity," where we employ diverse human resources, to "Diversity and Inclusion," where we employ diverse human resources regardless of nationality, race, gender, employment histories, or presence of disabilities, and establish a comfortable working environment for all.
Supporting a balance between work and child-rearing
To create an environment where employees can work with a sense of security while raising their child, we have implemented a support system that employees can utilize at various stages of their lives. To see how each stage of the system works, refer to the diagram and table shown below.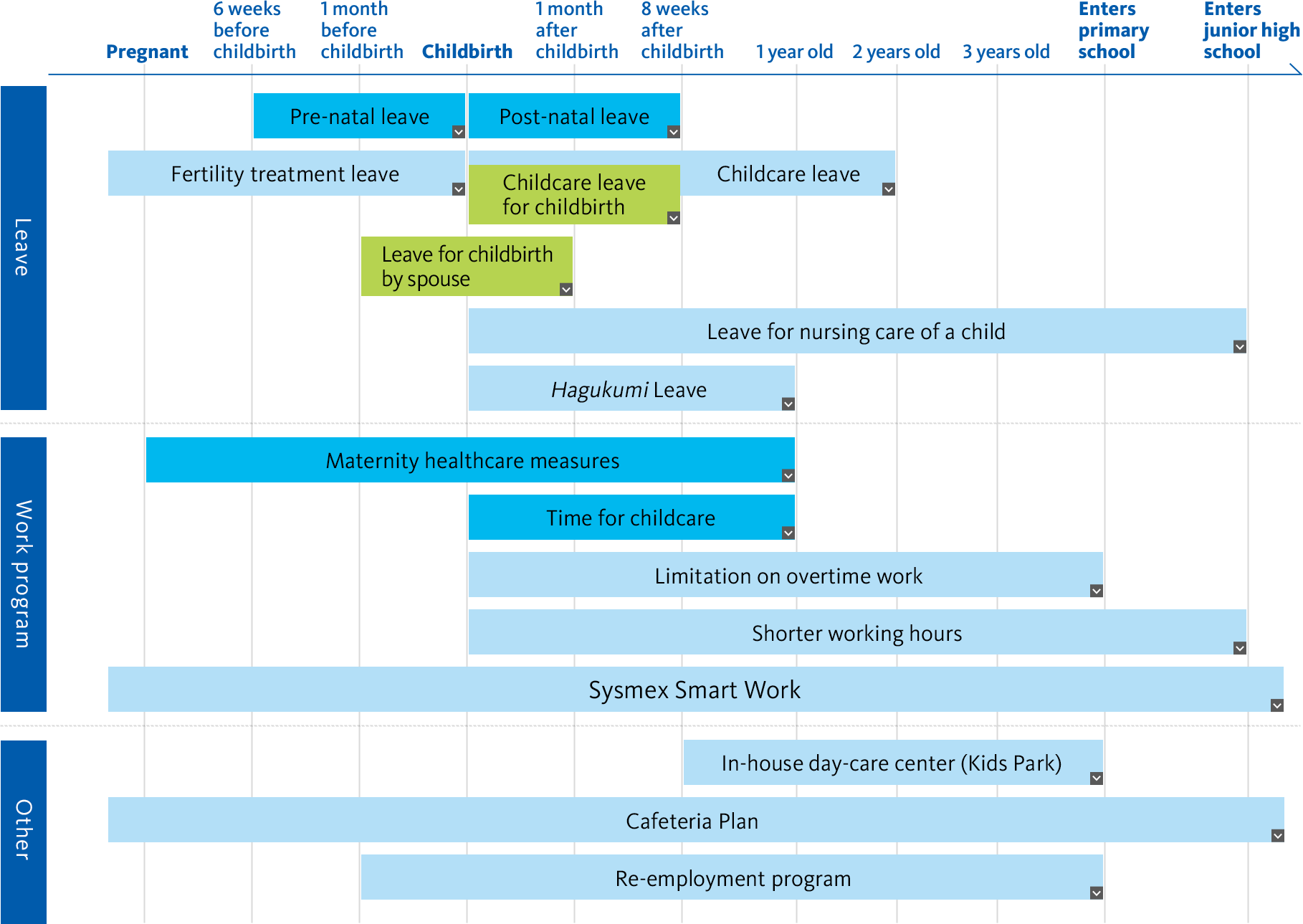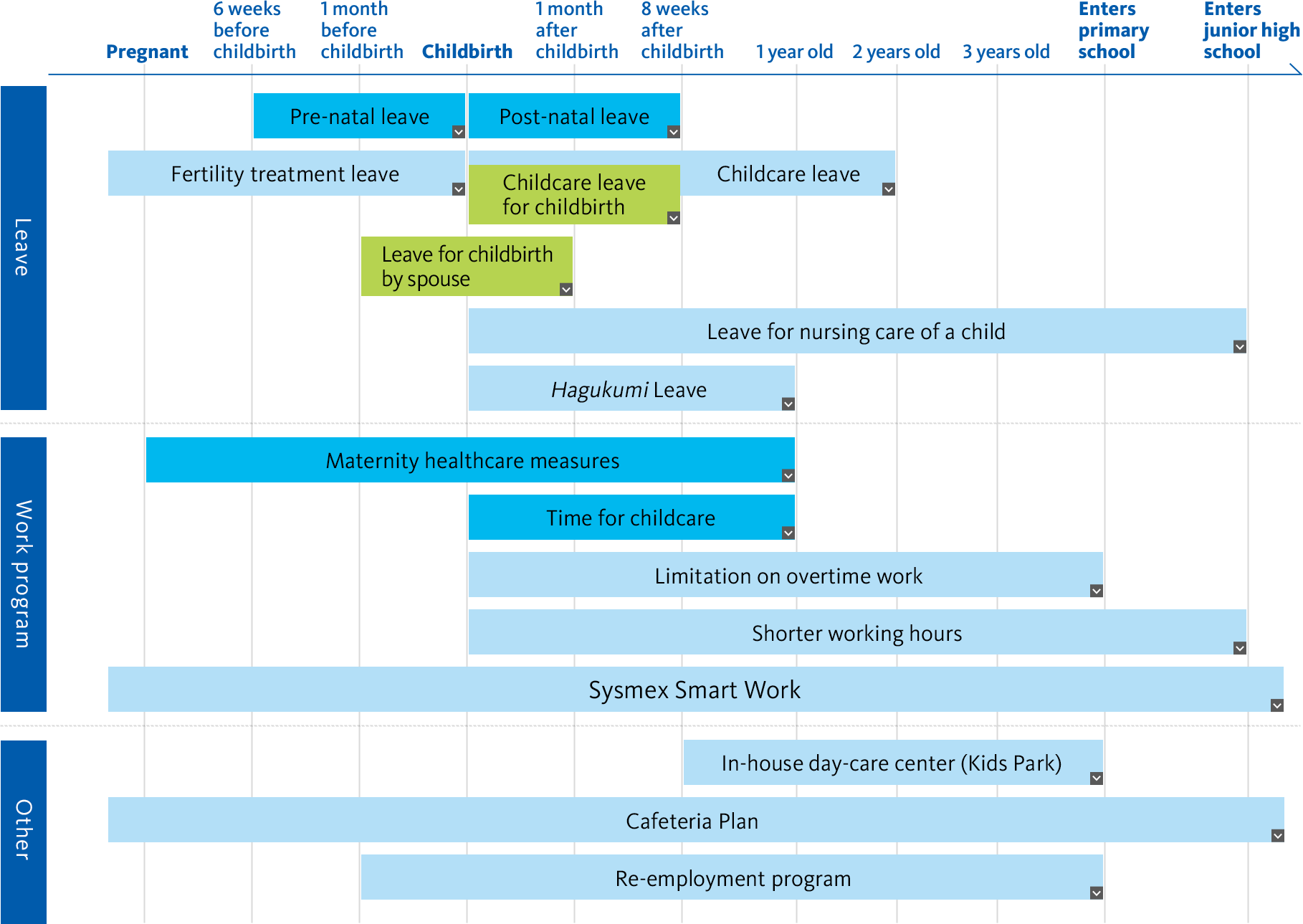 Mother
Father
Father and Mother
| | |
| --- | --- |
| Pre-natal leave | A leave of six weeks (14 weeks for multiple pregnancies), which includes the expected date of delivery, can be taken. |
| Post-natal leave | A leave of eight weeks can be taken starting the day after the child's birth. |
| Fertility treatment leave* | A leave of 14 days can be taken for ill health caused by morning sickness or for fertility treatment respectively. |
| Childcare leave for child birth | Childcare leave, which can be divided into two parts for a total of up to four weeks, can be taken within the eight-week period following the birth of the child. |
| Childcare leave* | Leave may be divided and taken twice up to the day the child turns two years of age (the day before the child's second birthday). |
| Leave for childbirth by spouse* | A leave of two days, either taken consecutively or divided into two parts, can be taken for childbirth by a spouse within the period starting from one month prior to the expected date of delivery until one month after the birth of the child. |
| Leave for nursing care of a child* | A leave of ten days can be taken for the nursing care of a child up until the time the child enters junior high school. |
| Hagukumi Leave* | Leave of three consecutive days can be taken up until the time a child turns one year of age. |
| Maternity healthcare measures | There are measures that ensure time is allowed for such things as health checkups for pregnant women (hospital visits during working hours); easing commuting difficulties (allowing off-peak commuting); reducing workloads, etc. (limiting work, allowing rest breaks). |
| Time for childcare | If a female employee nursing an infant under one year of age wishes, time can be taken for childcare twice a day for 30 minutes each during working hours. |
| Limitation on overtime work | If desired, an employee can be exempted from overtime work that exceeds 24 hours for one month or 150 hours for one year, except when normal business operations are adversely affected, in order to nurture a child, up until the time the child enters primary school. |
| Shorter working hours* | If desired, an employee can shorten working hours by moving back the time for starting work or moving up the time for finishing work by up to two hours and 30 minutes in 15-minute increments, for childcare until the child completes the sixth grade of primary school. |
| Sysmex Smart Work* | The place and time for doing work can be chosen by the employee (up to 50% of working days in a month). |
| In-house day-care center (Kids Park)* | Can be used by children from eight weeks of age up until they enter primary school. |
| Cafeteria Plan* | Can be received by employees to assist with the use of childcare facilities (nursery school, kindergarten, after-school childcare, day-care center, babysitter). |
| Re-employment program* | Employees who have worked for the company for three years or longer and meet certain criteria, can submit their wish to be reemployed if they are leaving the company for such reasons as childbirth, childcare, nursing care, etc. |
Sysmex's own program or a program that surpasses what is required by law

Day-care center
If you admit a child in April, there may be a few openings in a childcare facility. However, as there were many facilities with a waiting list in the area where I live, I chose Kids Park, Sysmex's on-site day-care center, which allows you to choose when to admit your child. So, I placed my child in Kids Park in November and began preparing for my return to work. Although Kids Park is located inside Technopark, the company's R&D site, it has an environment that allows children to feel the seasons and nature. Another appealing point I felt was the effort made to connect the experience of the seasonal harvest of strawberries, rice, and sweet potatoes, with food education.
During the time we used Kids Park, my husband dropped off our child at the facility in the morning. I was responsible for picking our child up at Kids Park, making use of the company's shorter working hours program, which I took advantage of after my childcare leave ended. Even if our child came down with something, like a sudden high fever, I felt reassured because Kids Park is located inside the grounds of the office, so I could get there quickly if necessary. Whenever I went to the facility to pick up my child, the caregiver would greet me with "Welcome back!" and tell me about what my child did during the day. And through the children at the facility, I became friendly with people from other departments, and enjoyed taking part in various events, such as sports day and field trips.
I made use of Kids Park for about two years. During that time, I was able to do my work with peace of mind while raising my child.
Initiatives for people with disabilities
By creating business and a workplace environment in which people with various physical, intellectual, and psychological disabilities can actively take part in keeping with their abilities, Sysmex is aiming to be a workplace filled with cheerful smiles, where everyone, regardless of disabilities, can work with enthusiasm and energy, while feeling the joy of working with peace of mind, and grow together.
Sysmex Harmony, a special subsidiary, provides manufacturing support for reagents and instruments, such as packaging for instrument accessories and parts at the factory, and the folding of reagent package inserts. This company is also responsible for packing PCR test kits, which saw an increase in demand due to the COVID-19 pandemic. Sysmex Harmony continues to achieve a zero-employee turnover rate (as of March 2022) through such actions as assigning work to its employees based on their individual abilities, and close communication between employees and their instructors through regular interviews.
Initiatives for LGBTQ
Since FY2022, when Sysmex established the partnership registration system, it has become possible for same-sex partners to be recognized as having the same status as spouses on the family register. Moreover, Sysmex also participated in Tokyo Rainbow Pride 2022, the biggest LGBTQ event in Japan. And with regard to employment screening, the box for gender on the resumé has been removed, and the clothing and hairstyle that reflect the employment candidate's personal gender identity are not reasons for penalizing the individual in the employment screening or hiring process.
Initiatives that respond to diverse cultures
In order to support our business spanning across more than 190 countries around the world, we must have people with thorough knowledge of markets in each region, not just the Japanese market. Therefore, Sysmex employs people based on the person individually, regardless of nationality, race, gender, age, employment histories, or presence of disabilities.
Furthermore, we have established an environment that facilitates the recruiting of highly talented human resources in Japan and overseas at the right time, and also hire people straight out of universities located overseas.
To prepare an environment where human resources of diverse cultures and backgrounds can work with peace of mind, we have translated the company regulations and support sites into English, operate the "English Information Portal Site," where a compilation of useful information related to working in Japan is provided in English, and serve halal and vegetarian meals in the dining hall.
Diversity education
Sysmex publishes a monthly in-house magazine called the "Diversity Newsletter" to share information and promote understanding of diversity issues among employees. In FY2021, we organized roundtable discussions on the themes of Diversity and Inclusion, LGBTQ+, support for people with disabilities, working women and health, and the involvement of men in parenting. We also provided unconscious bias training designed to help employees recognize and address their unconscious biases, and held a seminar on universal etiquette to learn the mindset and actions required for interacting with people of diverse backgrounds.
External evaluation (certification systems)
•Dow Jones Sustainability World Index (from FY2016)
•Dow Jones Sustainability Asia Pacific Index (from FY2012)

The S&P Dow Jones Indices in the United States publishes ESG investment indices. These indices evaluate corporate sustainability from the perspectives of "economy, environment, and society," and are used to select companies expected to achieve long-term sustainable growth based on comprehensive, progressive initiatives.

New Diversity Management Selection 100

This program was established for the purpose of broadening the base of companies that engage in diversity management and honors companies that make the most of the abilities of diverse human resources and links this to value creation.

The Ministry of Economy, Trade and Industry
2021 Recipient

Work with Pride 2022 Gold

Awarded to companies that carry out initiatives at the workplace for sexual minorities, including LGBTQ+, based on the five indices of Policy (declaration regarding conduct), Representation (community of concerned parties), Inspiration (enlightenment activities), Development (personnel systems and programs), and Engagement/Empowerment (social contributions and PR activities). Sysmex received the highest rating of Gold.

Work with Pride
2022 Recipient

Company That Excels in Heath and Productivity Management 2022

Selected as a company that considers the health management of its employees from a management perspective and strategically implements excellent "heath and productivity management" initiatives. Even among certified companies in the large enterprise category, only the top 500 companies with outstanding results from surveys are called a "White 500" company.

The Ministry of Economy, Trade and Industry
Selected every year since 2018

Eruboshi

Certification is given to companies with excellent performance and initiatives regarding working women, based on the five evaluation items of employment, continual length of employment, working hours and work styles, ratio of management positions, and diverse career paths. Sysmex has satisfied the criteria for all of these items and received Level 3 certification, the highest grade given.

The Ministry of Health, Labour and Welfare
Obtained certification in 2016

Kurumin

Certification is given to companies that have excellent systems for child-rearing and the systems are being widely used.

The Ministry of Health, Labour and Welfare
Certified since 2011