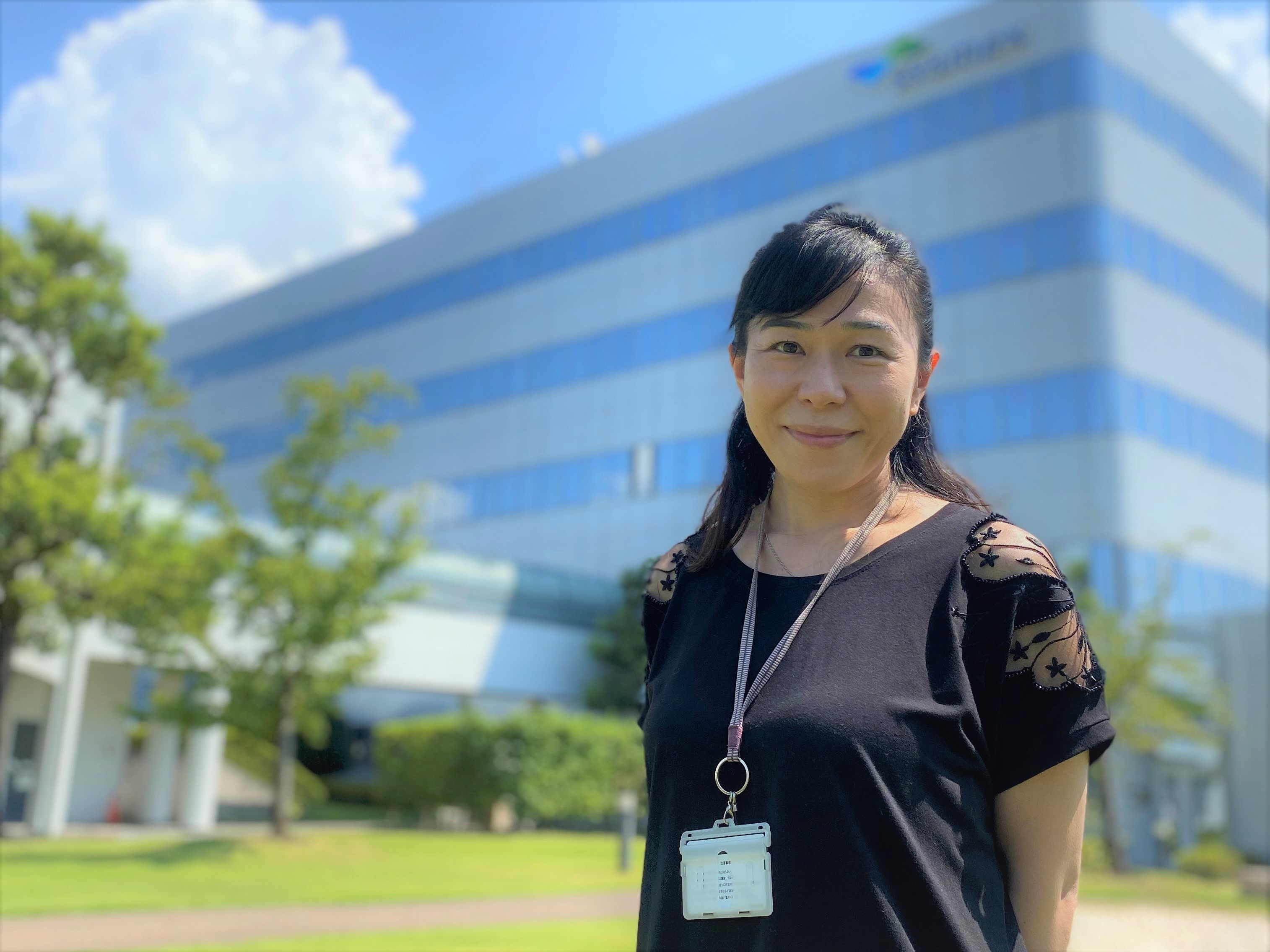 Working on all products created
by the company and supporting
their introduction to the world
Regulatory Affairs Department: Vice President
Joined the company in 2016
Career
Bioscience
Summary
Transferring from a pharmaceutical company to Sysmex

Collaborating with different departments and introducing products to the world; the real joy of regulatory affairs

A culture that advocates the spirit of challenge boosts growth
Current Responsibilities
I am responsible for the development and promotion of regulatory strategies for the entire Sysmex Group.
In order to manufacture, import and sell pharmaceuticals, medical equipment and diagnostic reagents in various countries, it is necessary to obtain official approvals in accordance with the laws and regulations of the authorities of each country. The regulatory work involves researching the laws and regulations of each country in real time in order to obtain approval for market introduction, being deeply involved to the planning of the products, and ultimately working with the regulatory staff in each country to obtain official approvals in various countries around the world.
As the work requires me to be involved from the beginning to the end of the life cycle of our products, I need to cooperate with various departments, such as strategy, development, production and overseas subsidiaries. Acting as the organizational head in this field, I currently oversee and lead the department in carrying out these tasks.
Sysmex Career
I joined a CRO immediately after graduating and worked as a Clinical Research Associate.

I also worked as a medical writer at the CRO.

I began work at a foreign pharmaceutical company as I wanted to be involved in the development of in-house products. I was involved in regulatory reporting of safety information in the Regulatory Affairs Div.

I was transferred and worked on regulatory applications. I assumed the position of manager at this time.

I wanted to work in regulatory affairs to support the global deployment of in-house products, so I joined Sysmex. As a regulatory affairs specialist, I was responsible for overseeing regulatory strategies.

As head of Regulatory Affairs, I manage the division and am responsible for developing and driving regulatory strategies for the Sysmex Group.
Q&A
Q. Why did you decide to join Sysmex?
I started my career at a CRO immediately after graduating. After working as a Clinical Research Associate and writer, I decided that rather than doing contract work, I wanted to be involved in the development of in-house products, so I joined a foreign pharmaceutical company. It was interesting, but as I gained experience, my desire to get involved with regulatory affairs, which could supports the global expansion of in-house products, grew stronger, and this is the reason I decided to move to Sysmex.
You might think that if you work for a foreign company the work is global in nature, but this is not always the case. If the company is headquartered outside Japan, the global strategy will be led by the home country. The Japanese regulatory affairs department for example is responsible for filing applications only in Japan. Moreover, it is quite common for companies that are headquartered in Japan to leave overseas regulatory affairs to their overseas alliance partners. In fact, not many Japanese companies have direct access to regulatory affairs in the US, Europe, China or other countries.
In this respect, Sysmex has local subsidiaries in various countries, and Sysmex's head office is directly involved in overseas regulatory affairs in collaboration with (and leading) local subsidiaries, as well as in Japan. The company's vision of continuing to take on new challenges in new areas also matched my expectations.
Q. Could you tell me what you find to be most rewarding about your job?
No matter how good a product is, if it doesn't meet regulatory standards, we will not be able to do business in that target country or region. Regulatory Affairs is the company's point of contact in the approval process, explaining in the application materials to the authorities that the product has the clinical usefulness, product quality and safety to be delivered to patients. Launching a product into the market requires the involvement of the entire company, and in Regulatory Affairs, we can view the entire product development process.
From another point of view, I think the complexity of the Sysmex testing business is very rewarding. Based on my experience, I feel that the regulatory application process for drugs is simpler than that for medical devices. Regarding drugs, the rules are strict and there is no flexibility. Sysmex's testing equipment is a combination of instruments and reagents, and there are many different functions within the instrument, such as conveyance, agitation, and lasers, as well as many different types of reagents. Having discussions with local regulatory affairs members in various countries on flexible strategies for submitting applications, such as what information is necessary and what combination of instruments and reagents should be put on the application, is something I find to be very challenging, but at the same time, very rewarding.
Q. Could you tell me about an experience that has left a lasting impression on you?
What has left an impression on me is my trip to the WHO headquarters in Copenhagen to have discussions with the WHO inspection team about the deployment of a malaria testing device that was under development in Africa.
The economic power of many developing countries is still low and funding is often provided by funding institutions in developed countries.
As it was necessary to gain recognition of the epidemiological benefits of the Sysmex malaria testing device from not only the WHO, but also the providers of the funding, I consulted with both parties regarding the application policies.
During this consultation, I became acutely aware of the need to take into consideration the social and political environment, including the harsh environment in which the device would be used, unimaginable to those of us living in Japan, the skill levels of the people using the device, and the burden of medical costs. All these points had to be considered carefully when formulating the application plan.
On another occasion, I had an opportunity to meet with regulatory inspectors from African countries and Japanese regulatory authorities at the same gathering, where we discussed problems from the respective standpoints of applicants and inspectors, and it was at that time as well that I recognized that there were gaps between us. Working in regulatory affairs brings new and surprising experiences every day, but the discussions with inspectors from the WHO and African countries were particularly surprising and memorable.
Q. What kind of people are suited to regulatory affairs?
I think it would be someone who finds new things and new tasks rewarding. There are always regulatory changes and new products on the market. If you enjoy keeping up-to-date with such changes, then you will enjoy the job. It is also important that you enjoy communicating. It is important to make strong demands, backed by regulations and laws, on the development department and other departments within the company, but such actions alone do not fulfill the role of regulatory affairs. It is also important to understand the systems and opinions of the development department and others, and to find and negotiate points of agreement.
Comprehensive skills are necessary to do the job of regulatory affairs. The job requires a wide range of competencies, including an understanding of laws and regulations, technical knowledge, and negotiation skills. When you join our Regulatory Affairs Department, you will have to use English in your work, so you will eventually become competent in the English language.
Of course, you cannot suddenly start negotiating or planning strategies without any experience. You will start by preparing application documents for countries where regulations are not so complex, and you will begin acquiring knowledge of regulatory affairs and technical knowledge of our products. By gradually increasing the level of difficulty and broadening the scope of your work, I believe that you will be able to acquire comprehensive skills in regulatory affairs and grow to become a specialist in this field.
Q. Could you share a message with those who are thinking about applying?
Sysmex is a very interesting company. It's a big company, but with the flexible mindset of a small business.
People are encouraged to take on challenges and failures by those who try are viewed with tolerance. From what I have seen at other companies, the speed at which people grow at Sysmex is remarkable, and I think this is largely due to this culture.
If you enjoy doing new things, taking on a variety of challenges, and wish to work all over the world, then you'll have a great chance with Sysmex!
Daily schedule
8:30

[Commence work]

I make good use of flexible working hours.
9:00

[Check e-mail and application documents]

I respond to emails from overseas received the previous evening. As the head of the division, I review and approve application documents from various countries.
10:00

[External Conference Call]

I take part in a teleconference call with Japanese regulatory authorities regarding new product applications.
11:00

[Internal Conference Call]

I have a meeting with my superior. As we both travel for business and telework, we make use of the telephone and web platforms to keep in touch.
11:30

[Lunch]

12:30

[Check Mail]

13:00

[Prepare Data]

While preparing materials for the next day's meeting, I deal with any sudden, non-scheduled in-house issues or matters.
15:00

[External Conference Call]

I discuss new system specifications with a German vendor.
18:00

[Finish Work]

I have dinner with my family and enjoy personal down time
22:00

[Web Conference calls]

I take part in project meetings with European and American affiliates. Meetings are held in the morning and evening as necessary for areas in different time zones. I flexibly control my working hours.