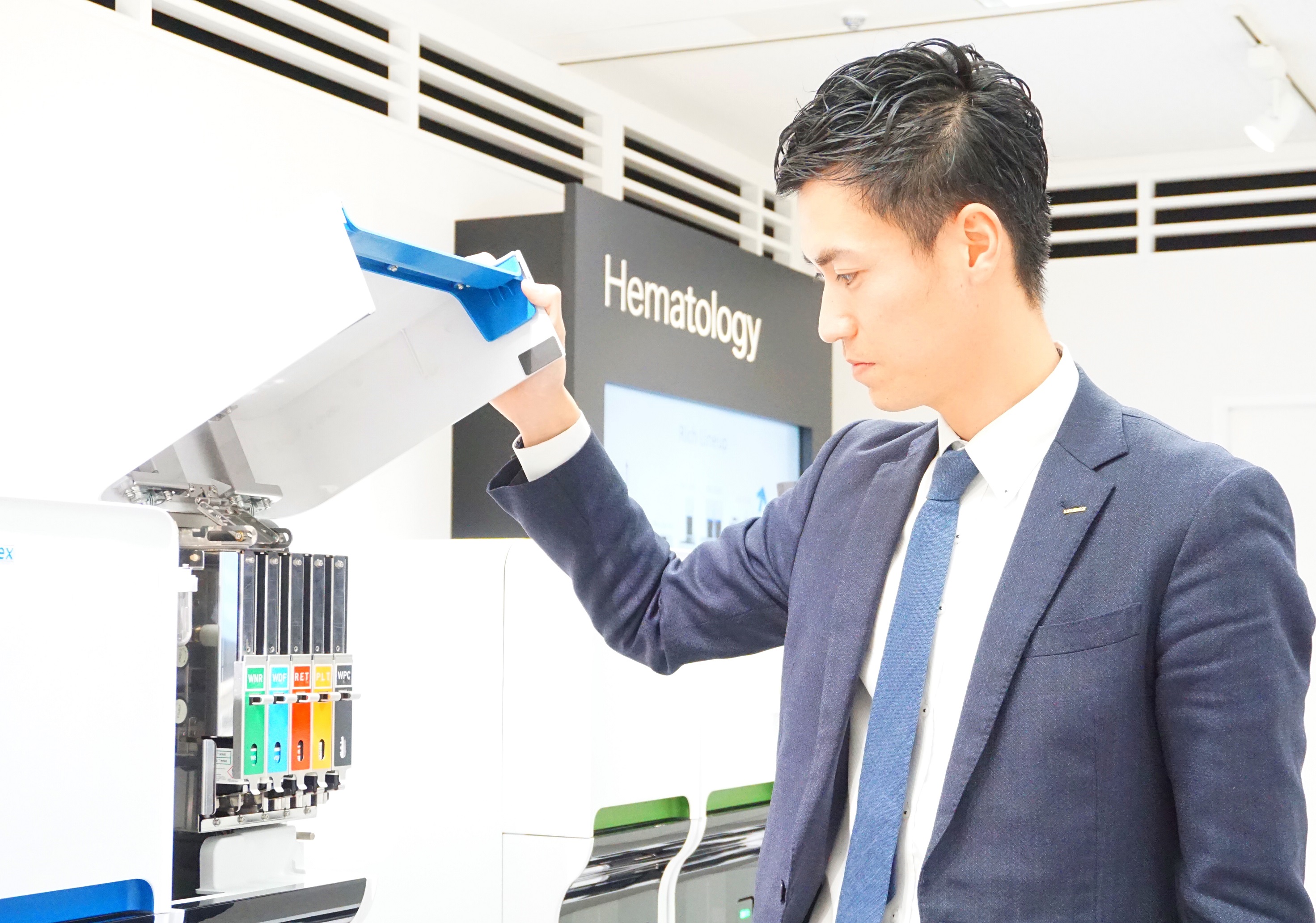 Create the best laboratory with customers
Joined the company in 2009
New Graduate
Faculty of Comprehensive Business, Department of Marketing
Summary
I always put myself in the customer's shoes in order to make the best proposal.

I was entrusted with responsible jobs from a young age.

Professionalism is common to all employees.
Current Responsibilities
I belong to a department that puts together comprehensive proposals which make the best use of our products and knowledge, including clinical testing instruments, testing reagents, IT software, etc. in order to improve customer productivity (laboratory) and solve problems. Our main customers are large-scale hospitals, responsible for advanced medical care in their respective regions, and I mainly make proposals to clinical laboratory centers. I am working every day to promote and understand the usefulness of our solutions to our customers so that they will select us as their partners. To that end, it is necessary to understand the current situation, issues, and ideal situations of our customers, and then visualize and propose how much we can contribute through our products and services. The medical field is about to change dramatically in 2025 when the baby boomer generation turns 75 years old. In light of these environmental changes, I am working with our customers to think about what the inspection department should be like in the future, in order to build the best clinical laboratory for our customers. I think I am very blessed to work in this environment, where I can feel the potential and predict the future, without just being bound by things at hand.
Sysmex Career
Business Strategy Division I was in charge of introducing new products to the market and supporting the formulation of business plans based on the product life cycle. Through my work, I learned about the roles and relationships of various functions and deepened my understanding of the company. It is a valuable experience and very useful to be able to understand the current business structure of the company and how it is united to provide maximum value.

April (2nd year) - March (4th year)

National Account Section, Domestic Business Promotion Division I was in charge of sales to clinical laboratory centers that carry out clinical inspections outsourced from medical institutions nationwide. It was a starting position for a career in sales. I learned the importance of not only talking about the specifications in product brochures but also visualizing a maximum return on investment, business improvement, and contribution to future development for customers.

April (5th year) - present

West Japan Sales Division Total Solution Section I am mainly in charge of hospitals responsible for advanced medical care in my region. I am contributing to the construction of the best laboratory while creating an ideal image together with our customers. I am involved in a hospital rebuilding project that will affect customers for the next 40 years, and I am able to learn every day how to go beyond the boundaries not only on the clinical laboratory side but also on the medical institution management side.
Q&A
Q. Could you tell me about when you joined the company?
As I was interested in overseas business from the time I started job hunting, I was initially assigned to the business strategy department. My role was planning future initiatives, such as what kind of business the Sysmex Group would like to undertake in the future. Since about 80% of our sales are in overseas markets, most of my work was overseas, and this environment did not disappoint the desire and expectation I had to work overseas before joining the company. Being able to know the functions and roles within the organization, and gain knowledge and experience about the market and business, proved useful in my subsequent work in sales. From my second year, I was in charge of sales specializing in clinical testing centers. These facilities undertake clinical tests from clinics and small and medium-sized hospitals, and since they measure samples from tens of thousands of patients a day, the scale of transactions is large and it is a responsible job. I realized that Sysmex is a company that entrusts such responsible jobs to young employees.
Q. Could you tell me what you value in doing sales-related work?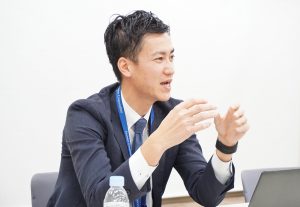 It is thinking from the customer's point of view and having a broad perspective. The strength of Sysmex is that it can contribute to better laboratory management with a full backup system that includes not only technical product capabilities but also services and support. In other words, we can approach both products and proposals from various perspectives so that customers choose Sysmex. However, it doesn't make sense if we do something that the customer doesn't need, doesn't have any issues with, or isn't happy with, meaning it's like a treasure trove. Among the many options, I am always asking myself "What would I want them to do if I was a customer? Am I not happy?". I am seeking the best proposal by asking such questions. For example, my current department is also involved in a hospital rebuilding project. In general, rebuilding a hospital is an important project which takes place about once every 40 years. In ordinal sales style, the proposal centered on our own products, such as considering product function size, the given space, and the functions to date. However, when proposing the plan for the newly built hospital, we also have to consider the future clinical testing system based on the external environment such as changes that may occur in the future, the positioning of the hospital, and the flow line design in the hospital such as emergency access. Proposals to achieve the optimum effect are required. I am learning skills on how to qualify as a medical practice management consultant and how hospitals should manage and profit in order to provide better medical care so that they can realize more multifaceted, deeper sales and consulting. I work every day believing that our thoughts and efforts go beyond our own products and services, lead to proposals considering the customer's point of view, build partnerships with customers, and ultimately customers will choose Sysmex.
Q. Could you tell me if you have the common attributes of a Sysmex employee?
It is professionalism. In a sales position, the company stage is increasing and customers give us even higher levels of value and service quality. There are many issues that cannot be easily solved, and it is important to have the mentality to face them constantly. Sysmex has a positive environment in which members with various specialties work professionally to solve problems and continue to pursue both their own growth and that of the organization.
Q. Do you have a message for students currently looking for a job?
Please focus on enjoying yourself as much as possible!
Job hunting is not just about deciding where to work. There are many opportunities to encounter various companies, people who are trying to find a job in the same way, and those who support these activities.
It is also your only opportunity to explore and identify different industries and companies. Visit a lot, talk a lot, and find out what you want to do. I want you to have an opportunity not only to get a job offer but also to expand your potential. If you do so, it will be fun naturally, and I also think results will follow.
Daily schedule
9:00

Going to the office

9:30

Regular business meeting

Share the project status with the proposal team, mainly led by sales, confirm tasks, and activate the PDCA (Plan, Do, Check, Act) in order to achieve our objective. We clarify issues, hold discussions to maximize each role, and brush up on understanding our customer proposals.
11:30

Proposal review

I confirm the proposal (including points being prepared) with my managers and the proposal team to further improve it. I aim to build better proposals by concentrating our in-house experience and knowledge as much as possible. I also use this opportunity to confirm and clarify necessary information.
12:00

Lunch

I enjoy lunch in a relaxed atmosphere different from the office. This time is precious and I can often come up with good ideas.
14:00

Customer visit

I visit one to two clinical institutions a day. Sales representatives visit four to five institutions to identify issues and make proposals based on each customer's situation.
17:00

Return to work

I review today's completed work and future actions. I contact, inform, and discuss with my team members as needed. After that, I make a proposal and go home.
21:30

Running

Running is good not only for stress relief but also for generating ideas for work, so I've made it part of my routine as a valuable time to feel refreshed.