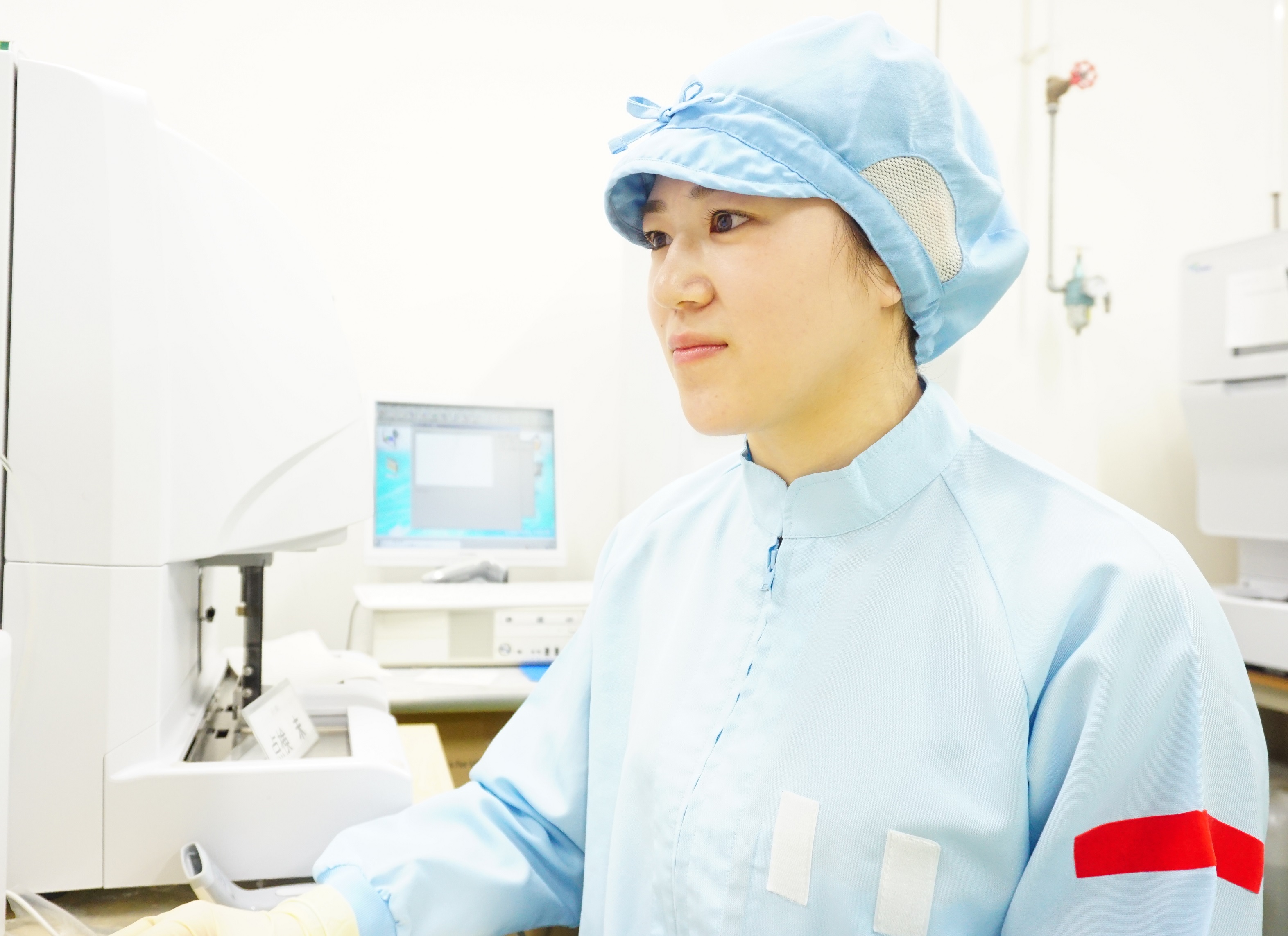 We are the last line of defense
before the product arrives at the customer
Joined the company in 2014
New Graduate
Department of Applied Chemistry and Biochemistry, Applied Chemistry and Biochemistry course
Summary
Age and experience do not matter. Became an inspection team leader in my second year with the company.

If I show that I am willing to challenge myself, I can seize various opportunities.

How to produce high quality products easily, safely and efficiently.
Current Responsibilities
Process control is carried out in the department that inspects reagent products and raw materials produced at the factory. The Production Department, to which I belong, mainly manufactures reagents in the hematology and urinalysis fields. Although I sometimes inspect the reagents by myself, I am currently in charge of managing the inspection process, approving inspection results, and training inspectors to be team leaders. In addition to process control, I am working to improve product quality and efficiency by participating in mass production projects for new products and proposing inspection process improvements to the development department based on daily inspection data.
Sysmex Career
Quality System Section, 2nd Production Department I learned how to inspect products and raw materials, and inspect and calibrate inspection equipment. In other operations, I worked on inspection data trend analysis and productivity activities such as the reduction of man-hours and costs.

April (2nd year) - present

Quality Control Section, Quality System Section, 2nd Production Department As a process management manager, I am in charge of daily process management and the training of new employees. The number of tasks involving people from other departments has increased, such as participation in mass production projects for hematology products and the reduction of man-hours by improving inspection methods.
Q&A
Q. Could you tell me why did you choose Sysmex?
I decided to join Sysmex because it has a solid global market share and can contribute to the health of people around the world. I participated in the internship while I was job searching, and this experience made me realize that I wanted to do something that can contribute to people's health and began to want a career in the medical industry. Sysmex's corporate culture emphasizing the challenging spirit of employees and enhancing an environment that allows employees to work for a long time after marriage and childbirth were very attractive and were the deciding factors for joining this company.
When I first joined Sysmex, there were many excellent employees around me, and I sometimes doubted myself. However, year after year, I have been given responsibilities, and I have gained confidence by trying new jobs. There are many opportunities for growth within the company, and if I show my willingness to take on challenges, I can seize various opportunities. There are many young employees who are active around me, so I am able to push myself while being stimulated.
Q. Could you tell me what you find rewarding about your work?
Quality control is a manufacturer's last line of defense before getting a product to a customer. The most rewarding thing is that the products I inspect are delivered and used all over the world and that they are connected to the health of people, and I can work with a strong sense of responsibility.
Since my second year with the company, I have been entrusted with process management and new employee education. As the production volume increases every year, I have a lot of responsibility, but I enjoy it, such as thinking about the division of work that can promote efficient production and devising educational methods so that everyone can get the same result at the same time.
In addition, it is important for factories to not only produce the developed reagents, but also to think about how to produce high-quality products easily, safely, and efficiently, and to improve them. Inspection data is an important indicator for that. There was a great sense of accomplishment when we proposed improvements in manufacturing and inspection methods based on trends in inspection data, and with the cooperation of related departments, this lead to significant cost and man-hour reductions.
In addition to work, it is also rewarding to be able to contribute to regional revitalization by participating in the Kobe Marathon, which Sysmex sponsors every year, as one of our in-house volunteers.
Q. Could you tell me about your future goals and how you approach them?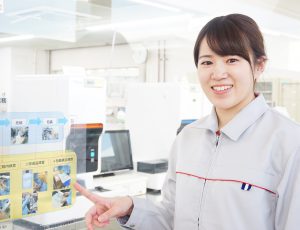 Taking on new jobs and acquiring new skills and knowledge are my future goals. I would like to experience various tasks, not limited to quality control, to contribute to the growth of the company, and to improve myself.
In the future, one of my goals is to become a human resource who can contribute to improving the quality of the entire reagent factory. Sysmex has several reagent production bases in Japan and overseas. Even when the same product is made, the workers, equipment, and culture are slightly different. I would like to incorporate the good parts of each factory into each other and create an environment and mechanism that can produce high-quality reagents with the same efficiency regardless of which factory produces them.
Daily schedule
8:30

Going to the office

When I come to work, I first start up the inspection equipment. After that, l check my schedule and emails for the day.
9:00

Morning assembly

After exercising with radio calisthenics, I share my contact information and daily work schedule within the department.
9:30

Working

I collect and analyze data and create materials related to ongoing issues.
12:00

Lunch

13:00

QC circle activities (activities to voluntarily carry out quality control activities in small groups)

We focus on one topic every six months and engage in activities about once a week. Debriefing sessions are held in September and March every year to determine the best group.
13:30

Working

I perform regular inspections of inspection equipment and inspector education.
16:00

Approving inspection results, creating next day processes

I check that the results of the products inspected each day are correct and that the records are correct. In addition, I create the inspection process for the next day based on the production plan.
17:30

Leaving the office