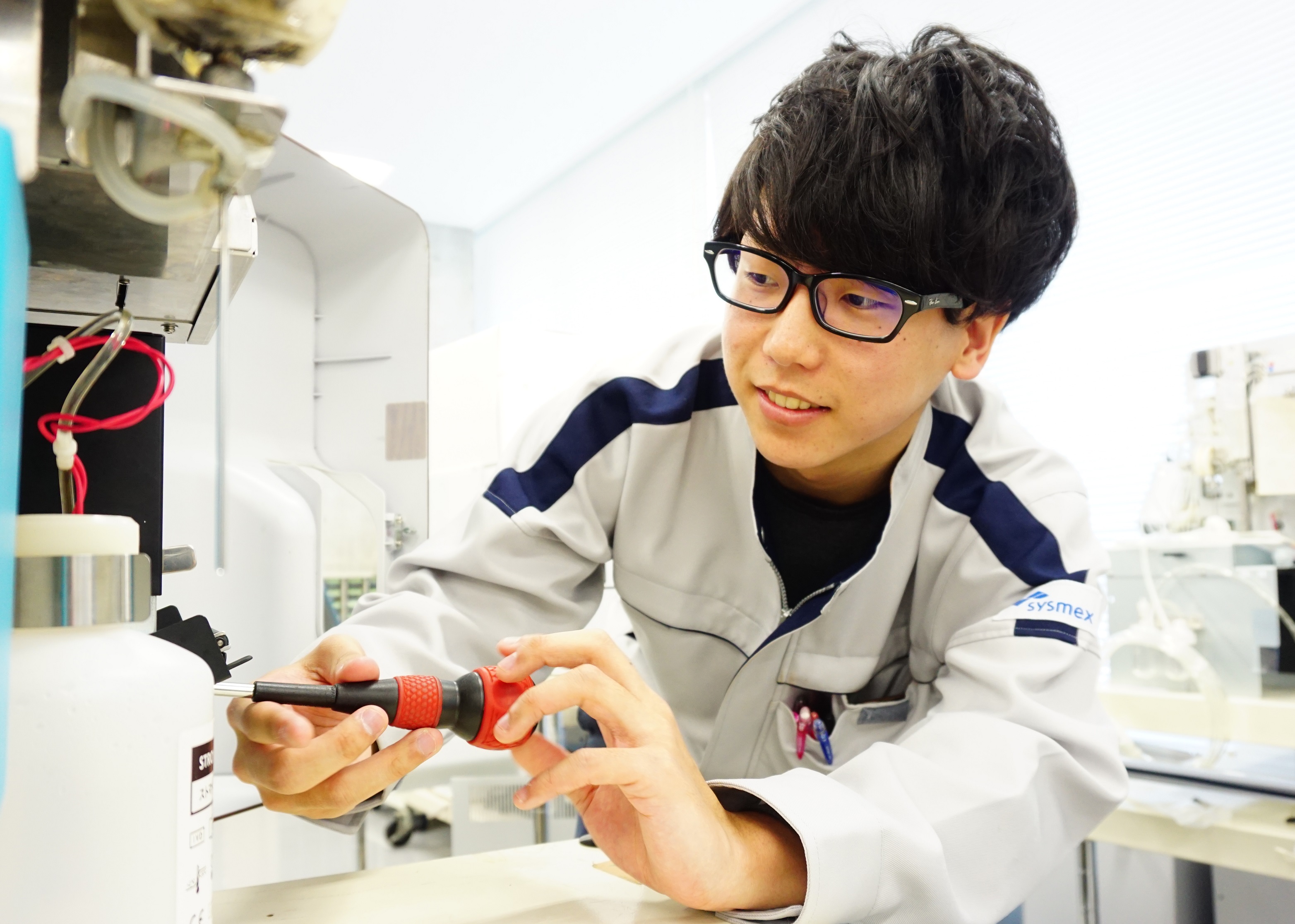 Work related to manufacturing
in a wide range of areas
Joined the company in 2014
New Graduate
Department of Electrical and Electronic Engineering
Summary
Being considerate leads to building a relationship of trust and speeding up work.

Communicating and sharing knowledge across teams.

Taking advantage of being a young person who can see things differently, unbound by stereotypes
Current Responsibilities
I am mainly in charge of four tasks. I am focusing on specialized electrical systems, which are responsible for the mass production transition of new products, production maintenance activities, investigation and countermeasures for quality projects, and cost reduction. Of these, the one in which I am the most involved in production maintenance. For example, various parts are required to make a product, but it may not be possible to procure them for various reasons. In such cases, we start by looking for a replacement and then verify that the device can still function correctly. In doing so, the most important thing is to maintain the quality of the entire product. In the electrical team to which I belong, we do not decide the specific fields of instrument products that each member is responsible for, and all members support all medical instruments. I find it very rewarding because I have the opportunity to play an active role in a wide range of stages from the start of mass production to the end of support.
Sysmex Career
Production Engineering Section, Production Technology Department, Instrument Production Division After being assigned to this department, I received training on production line repair work. After that, I was in charge of repairing immunoassay medical instruments that had been mass-produced for the Chinese market.

April (2nd year) - March (3rd year)

Production Engineering Section, Manufacturing Technology Department, Manufacturing Management Division The fours tasks which I currently undertake - as explained earlier when talking about my current responsibilities - began in my second year. From the third year, I started to work as a junior trainer in this team.

April (4th year) - present

Production Engineering Department, Manufacturing Technology Department, Manufacturing Management Division In addition to my responsibilities from the second year, from September of the third year, I worked as a member of the product development project for the new super-resolution fluorescent microscope. This product was developed by my coworker, and being involved in it has encouraged me a lot.
Q&A
Q. Could you tell me what you value about your work?
Understanding others. There are many opportunities to share information in my work. When sharing information with team members or asking my boss to check reports, there is always someone more experienced who is busy but gives up their time for me. It is important to convey information quickly and in an easy-to-understand manner. In these cases, what I value is sharing information after understanding what the other person wants and how to get them to understand. Until now, I was not good at sharing information. That is why I'm trying to be more self-aware and work on communication. We believe that taking action after understanding others leads to building a relationship of trust and working more efficiently.
Q. What is the atmosphere like in the company?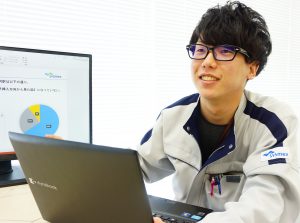 Communication across departments is very active. When I receive an inquiry from the production site, I actually go there to check the facts, instead of telephoning or emailing them. This is because if I just try to solve the problem by phone or email, there may be some difference in our understanding. A face-to-face response not only eliminates misunderstandings but also leads to active communication with the field and creates an environment that facilitates work.
In addition, in this environment, it is easy to demonstrate teamwork. My department holds a weekly meeting to share each team's current progress information. We can also get new information from superiors and gather information about what kind of work team members are in charge of. If there is a problem within our team, we can resolve it if one of the other teams has experienced something similar, etc. Since I do not have to search for a solution from scratch, I can accumulate knowledge and experience and improve productivity. Thanks to this kind of regular information sharing time, I think we are able to demonstrate our teamwork well.
Q. Could you tell me about your future goals and how you approach them?
It is to provide our customers with higher quality products. As a production engineer, I need to identify and improve steps that will lead to quality improvement. I would like to make new discoveries in a wide field from a new perspective as a young person who is not bound by stereotypes. I also believe that I will be able to improve the quality of Sysmex products by using the know-how, and I want to cultivate through measures to investigate the causes of quality projects. To that end, I would like to actively feedback know-how to development.
Daily schedule
9:00

Going to the office

i-Square, where I work, starts at 8:30, but I go to work at 9 o'clock using the flextime system. First, I check my email and daily schedule.
9:30

Design stage quality verification

I investigate where to use discontinued parts, select alternatives, compare specifications, and examine protocols for actual machine verification.
12:00

Lunch

Lunch break in the workplace cafeteria.
13:00

Meeting

I share members' tasks and progress. If there is a consultation, we use it to exchange opinions.
14:00

Actual machine verification

I conduct verification of actual machines by mounting a substitute on the target medical instrument.
16:00

Preparing reports

I create a report for effect verification of the machine system and actual machine verification.
18:00

Coordinating with related departments

I confirm the production plan and coordinate with related departments about when to apply the design change.
19:00

Leaving the office

Leave the office using the shuttle bus from i-Square to the station.