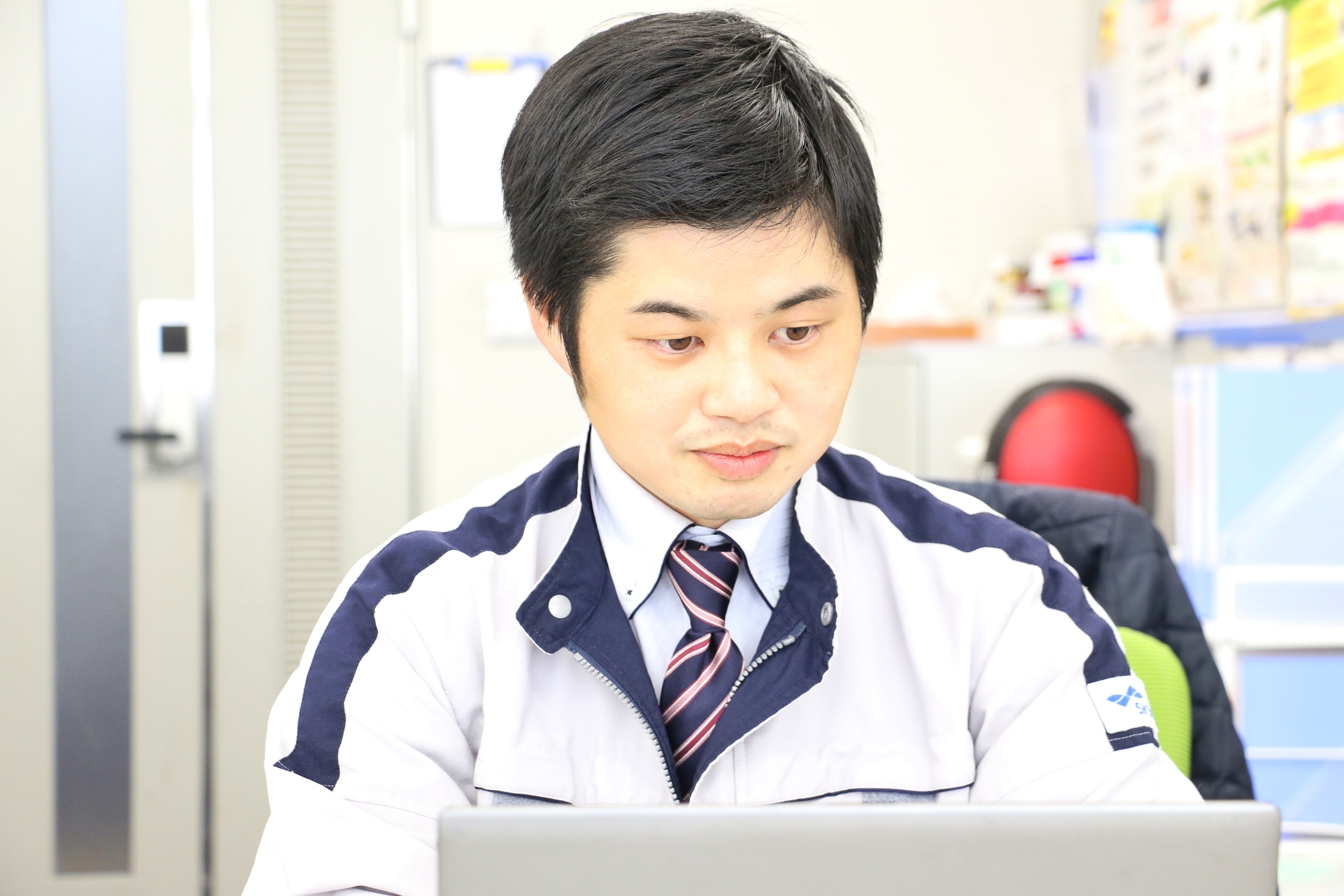 We are responsible for delivering
inspection results to the customer
Joined the company in 2010
New Graduate
Department of Mechanical Information Systems Engineering
Summary
Teamwork where everyone can help each other.

Customer's "thank you" leads to motivation.

Being a professional only if you exceed the expectations of others.
Current Responsibilities
I am in charge of providing technical services and support to customers. Your image may be of a job that involves visiting hospitals and repairing delivered products. However, Sysmex's service includes not only repairing our products but also making proposals and providing solutions to our customers' problems. In order to solve them, we identify the essence of each problem, make our proposal and provide the value unique to Sysmex. Under such circumstances, I think it is an important job for building a strong relationship of trust with our customers. Many people say that this relationship of trust with their service person is one of the reasons why customers choose a specific product. In overseas subsidiaries, my position is called a Field Service Representative and we try to not just sell medical instruments but also the quality of clinical testing results from medical instruments. We are proud of this way of thinking and this is a rewarding job.
Sysmex Career
Entry ~ September (4th year)

West Japan Sales Division Osaka Branch Customer Support Section 1 Section During my first year in the company, I was in charge of the practitioner/animal market in Osaka city. From my second year onward, I was in charge of everything from university hospitals to practitioner hospitals throughout Nara Prefecture, learning the service basics and the importance of problem-solving as a team.

October (4th year) ~ present

West Japan Sales Division Hiroshima Branch Okayama Sales Office Technical Section I am in charge of a university hospital-practitioner in the northern area of Kurashiki city. Year after year, the relationship with sales is getting closer, and I am also experiencing customer support from a sales perspective.
Q&A
Q. Could you tell me about something that has left an impression on you?
It was when I felt the overwhelming teamwork of the service staff. In my second year at the company, I was in charge of the entire Nara prefecture by myself. While I was happy that I was in charge of the entire prefecture, honestly it also made me uneasy. At that time, I was very happy that my senior colleagues asked me if I was okay to support me. There are many reliable senior colleagues around me. Of course, I felt a great sense of responsibility for being in charge of the entire area by myself but I didn't have to do everything alone. In addition, as I was in charge of my work I was increasingly asked by my seniors, "Can I help you?", which increased my motivation.
One of the characteristics of Sysmex's service staff is teamwork where everyone can help each other. If two of your facilities have trouble at the same time, we have a system in place so that other personnel can visit the facility and respond promptly. I am surrounded by colleagues who I can trust and trust me in my work
Q. Could you tell me what you find rewarding about your work?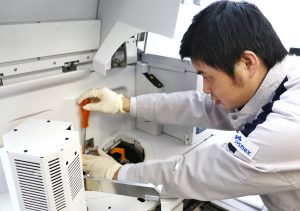 There are two main types. The first is receiving a direct evaluation from a customer. I am very happy when customers say "thank you" directly for what I did. In addition, service staff like me are the first people who can receive product feedback from customers and having this very important position within the company also helps us to motivate ourselves.
The second is how I can feel directly that I am contributing to medical care. Since Sysmex is a BtoB company, I can see the faces of those in the hospitals and testing centers who use the testing medical instruments, but I cannot see the faces of the patients. However, service work requires users to be conscious of the patient. If medical instruments become unusable, hospital examinations will stop. Of course, doctors and laboratory technicians are in trouble, but the biggest problem is the patients. Service must resolve the problem immediately and take responsibility for the final process of delivering the test results to the patient. Therefore, it is a very tense job, and I am doing it while feeling rewarded every day.
Q. Could you tell me what you value about your work?
It is exceeding the expectations of others. Displayed in one of the doctor's rooms in a facility I am in charge of are the words "Professionals must exceed the expectations of others". I still remember what I wanted to be when I read these words. If I can repair my products, I may be a "professional", but I say, "If it's a repair job, I will repair it faster than expected." "If there is a request with a time limit, I will respond before the deadline." It is important to make the other person think "Wow!" by always doing more than expected. I want to become a true "professional" by continuing to do this.
Q. Could you tell me about your future goals and how you approach them?
I aim to be a human resource who can provide global support. In my current occupation, I experience not only product quality and customer issues from the front line but also issues faced by the service itself. In the future, I would like to contribute to providing customers and service personnel with faster and more accurate information and support than ever before by making use of my experience. Currently, I work closely with customers in one area, but in the future, I would like to work for customers not only in Japan but all over the world. Our goal is to grow into a global human resource that can provide peace of mind to all our customers by supporting them and our services all over the world.
Daily schedule
9:00

Morning assembly

At the Sales Office, the team member in charge of that day's presentation tells us the "word of the day" every day, and we start our day with this morning assembly.
9:30

Meeting

I share the weekly action schedule with everyone. If there are important topics, we share them with each other.
10:30

Urgent repair appointment

I deal with medical instrument issues that occur during the day.
12:00

Lunch

13:00

Repair appointment

I deal with previously-scheduled instrument troubleshooting.
15:00

Patrol

I go by company car to check the status of an instrument installed in a hospital in my area. It is also important to talk directly with customers in order to prevent problems before they occur and to build trusting relationships with them.
17:00

Business processing

I create the quotes for the instrument repairs and inspections.
18:00

Leaving the office