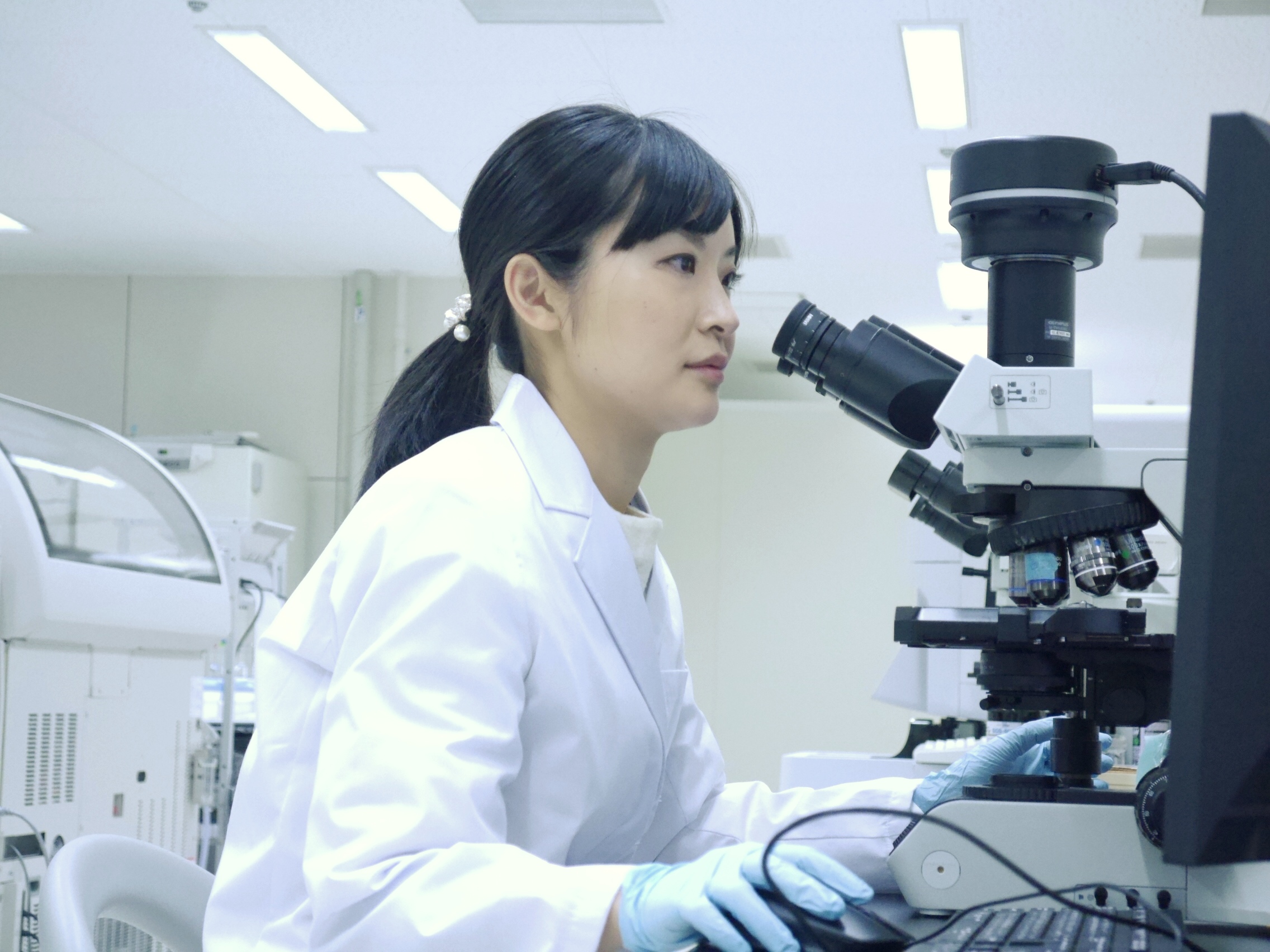 Enjoy Work and Life!
Joined the company in 2009
New Graduate
Faculty of Medicine Department of Health Sciences Department of Laboratory Technology
Summary
Support customers using our products from a scientific perspective.

You can be entrusted with the difficult task of launching a new product from a young age.

Balance my work and private life, and focus on living my best life both at work and at home!
Current Responsibilities
The role of the Scientific Division is diverse; for instance, we support customers using our products and give them peace of mind from a scientific perspective, understand their clinical value, and support the in-house marketing and sales teams. I am in charge of service and support for products in the hematology field, which is our core business. Specifically, I create academic materials, such as scientific basic data, which we provide to our customers. I also educate domestic and overseas sales department staff, carrying out training and answering inquiries. We also provide customers with instructions on how to interpret the data and provide product training directly over the telephone.
In addition, we participate in new product development projects and share our ideas on new product specifications and data from an academic point of view. When launching new products, we carry out joint research with hospitals, acquire data and create materials, and carry out activities to increase the value of products by presenting at academic conferences and publishing papers.
Sysmex Career
I was mainly in charge of sales follow-up activities for immunological products. I usually gave product presentations to customers, explained how to operate our medical instruments, and conducted product evaluation tests. Customer understanding and business distribution are also relevant in my current work.

April (2nd year) - present

As Scientific Affairs' global contact person, I am in charge of activities such as creating academic materials for hematology products, education, training, and responding to inquiries. I also provide training and respond to inquiries from staff not only in Japan but also overseas.
Q&A
Q. Could you tell me about any significant growth in your career so far?
It has been 4-5 years since I joined the company, and since then I have been entrusted with a series of academic activities when launching a new product. I have been involved in product development projects, joint research with university hospitals, presentations at domestic and international conferences (co-presenters), support for submission of English dissertations, product training in Japan and overseas, etc. I've been involved in a very wide range of things and, honestly, it has been hard and there has been pressure. When a new product was released and got off to a good start, I felt a sense of accomplishment with a sense of security. Above all, I was happy that I was able to realize the growth of my problem-solving and execution abilities.
Q. Could you tell me about balancing your work and private life?
Since my child is young, I take advantage of the reduced working hours, and after returning home I cherish the time we spend together such as going to the park. During work, I concentrate and try to produce high-quality output in a limited amount of time. The sense of accomplishment when I reach my goals keeps me motivated. I often go on trips with my family, taking advantage of paid leave and clearly separating my work and private life.
With the understanding and support of my supervisor and team members, I took maternity leave and childcare leave for about two years, and was able to resume work smoothly when I returned.
Q. What do you expect from students who want to join Sysmex?
I expect them to be full of the spirit of challenge to try anything. I think that this kind of mentality makes working in our company more enjoyable. We look forward to working with people who have dreams and passion.
Q. Could you tell me about your future goals and how you approach them?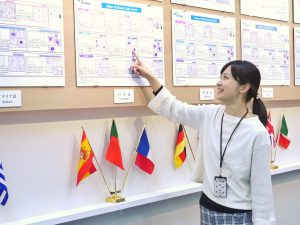 As the company grows, I want to grow more and contribute to society through the evolution of healthcare. In addition to improving medical expertise to create new products and value that anticipates the trends of the times, I also have an antenna in other industries and have knowledge of the latest technologies such as IT and AI. I am trying to acquire a wide range of skills.
Daily schedule
9:30

Going to the office

I go to the office after taking my child to nursery school. There is a flexible work system for adjusting working hours, which is very helpful for me. After coming to the office, the first thing I do is check my emails.
10:00

Customer Support Center Inquiries

We receive inquiries about medical instrument data directly from customers by phone. We try to explain to our customers in an easy-to-understand manner so that we can provide accurate answers based on our expertise and experience. I sometimes receive ten calls a day from customers!
11:00

Responding to overseas inquiries

For inquiries from overseas staff, we use a dedicated system because it is difficult to have a direct telephone conversation due to the time differences. We share information and knowledge globally.
12:00

Lunch

I enjoy lunchtime with team members and peers in the cafeteria. The menu is healthy, which makes women happy.
13:00

New Product Development Project Conference

Members from various departments gather to hold meetings when developing new products. I will comment on the specifications and data of the equipment from an academic point of view.
15:00

Analyzing data and creating documents

I analyze data such as reproducibility and correlation measured by the medical instruments and summarized in academic materials. These data represent the reliability and accuracy of the product.
16:30

Leaving the office

I also value the time I spend with my children by taking advantage of a flexible work system.