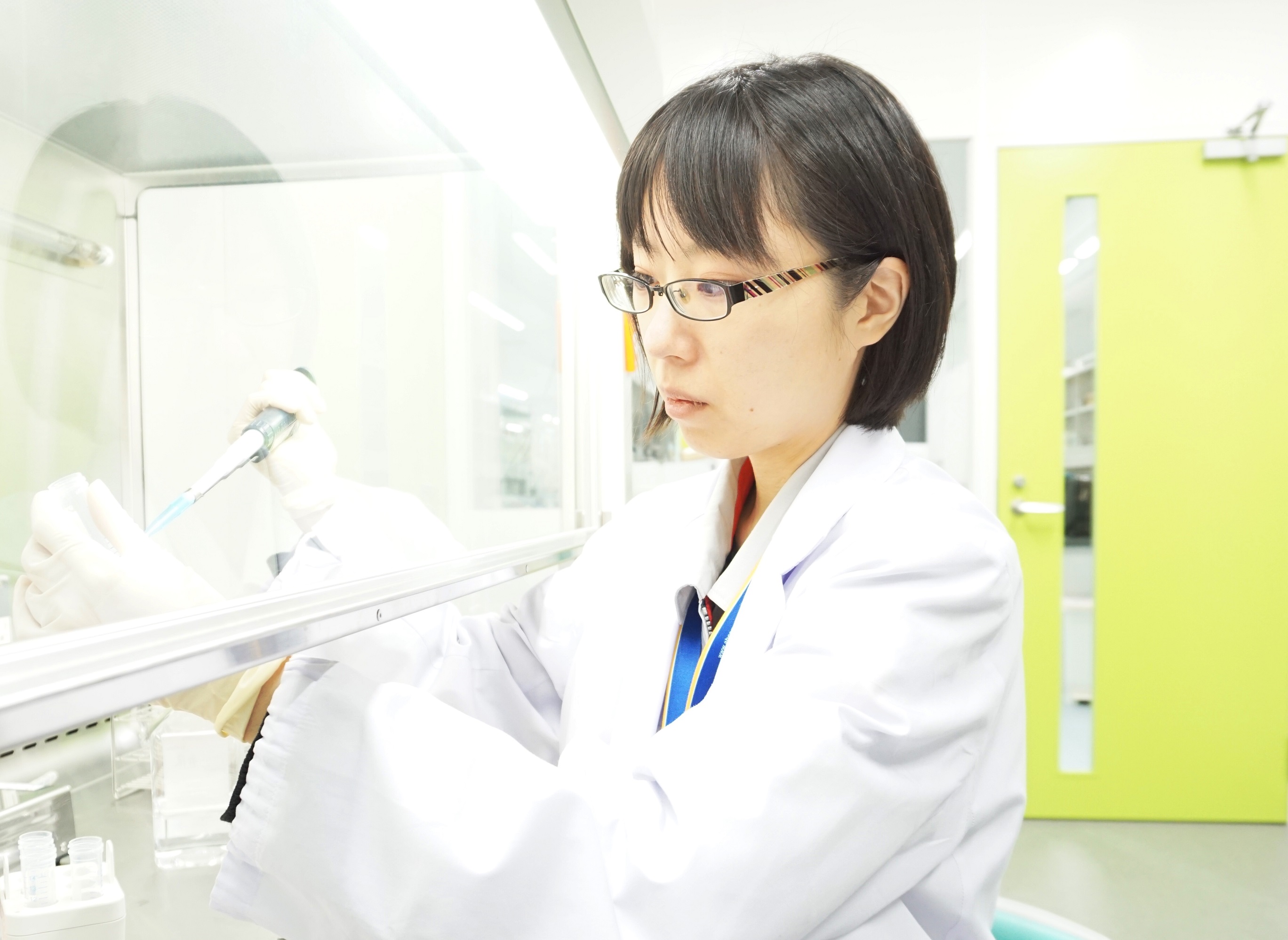 Create new and unprecedented inspections with my team
Joined the company in 2011
New Graduate
Department of Biology Graduate School of Medicine
Summary
Received the Best Poster Award at the in-house Techno Forum in my 2nd year with the company.

Take appropriate action while understanding other people's behavior and point of view.

Clinical testing is necessary for everyone and this brings us closer to each other.
Current Responsibilities
I conduct research and development on measurement principles and reagents to realize innovative and new clinical test items that have never been seen before. The Central Research Institute is involved in taking on the research function of creating new technologies (seeds) as well as sometimes working closely with development. Currently, I am simultaneously working on multiple projects targeting different disease areas. Members of various specialties, generations, genders, and nationalities work on these projects, and each individual makes their presence felt while building relationships where we can understand and inspire each other. Our research and development cannot be achieved by knowledge and technology in a single field. My responsibility is to create reagents, but I am creating new clinical tests for reagents with members who are in charge of medical instruments.
Sysmex Career
Entry - August (1st year)

New employee training Manner training, acquisition of basic clinical testing knowledge, and understanding in-house products. After that, OJT in sales, service/maintenance, and the factory were conducted with three weeks spent in each. It was a good experience for understanding that Sysmex is made up of employees working in a wide range of fields.

August (1st year) - March (3rd year)

Technology Development Department I developed new measurement reagents related to endocrine (hormonal) systems, leukemia, etc. I was given responsibility from the start. I learned the difficulty and fun of making products in collaboration with people from various backgrounds.

April (4th year) - present

Central Research Institute While conducting joint research with universities and companies, I build measurement technology using cutting-edge targets and new analytical methods. While feeling the difficulty of creating things from scratch and setting standards and goals, I enjoy experimenting with them.
Q&A
Q. Could you tell me about something that has left an impression on you?
In my second year at Sysmex, I received the Best Poster Award at the in-house Techno Forum. The road to winning the award has never been easier. After joining the company, my first project involved improving existing measurement methods and constructing measurement principles for new measurement targets. It was completely different from the field I majored in at university, and I was in a position to use established measurement methods. Thinking about measurement methods was completely new to me. I studied, considered, and researched the science and knowledge necessary for my work from scratch, and repeated it many times. During that time, I received support and advice from many more experienced colleagues. After a process of trial and error, I was able to create the required output, and in my first year at the company, I applied for a patent. In addition, I had the opportunity to present the results to management at the annual in-house Techno Forum, and I finally was able to win the Best Poster Award. Although it was a difficult day in an unfamiliar environment, I could improve my logical thinking through a process of trial and error, and this also gave me more self-confidence.
Q. Could you tell me what is important in your work?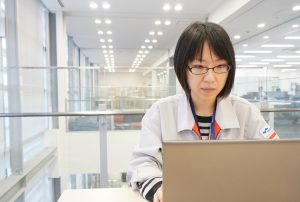 It is to act according to circumstances. I have been part of multiple projects since joining the company. Project management methods differ depending on each leader, and not all members have the same ideas about everything. I feel that it is important to take appropriate action while understanding other people's behavior and point of view, with a strong belief in how I can contribute to the project. I am very happy when I feel that my work has helped them and when my work approach is evaluated. If you work as a team rather than as individuals, you will be even happier when you get results.
Q. Could you tell me your reasons for joining the company?
The reason is that I wanted to do a job that could contribute to people's health. While I was job hunting, I was mainly looking for companies involved in treatment, but I learned about Sysmex through a professor in my laboratory and took part in a briefing session. On my way home, I suddenly thought treatment is for the patient, and ideally, the treatment is no longer needed. However, testing is necessary for everyone and can continue to be close to people. At that moment, the desire to create an inspection overflowed in me.
Testing is needed not only for patients but also for healthy people. The field of inspection, which has many areas to contribute to, was the best place to work for me, who has a desire to contribute to people's health.
Q. Do you have a message for students currently looking for a job?
Looking back, job hunting was an important opportunity to reaffirm myself and society and think about our relationship. Please spend time envisioning your future.
If you cannot decide what kind of job you want, it's best to choose the one that excites you the most. I think that is what will make you happy and you can share this happiness with society.
Daily schedule
9:00

Going to the office

I check my e-mail and prepare to start up the equipment in the laboratory. Basically, the schedule is from 9:00 to 17:35, but since we have the flextime system, I can choose what time to go to work depending on what works best for me.
9:30

Team meeting

Teams based on employees' expertise is set up separately from the project, and members belong to different teams. At team meetings, we confirm what needs communicating to the department and carry out activities such as technical surveys and dissertation reading sessions for each team.
12:00

Lunch

It's almost eight years since I joined Sysmex but I'm still relaxing, eating with my colleagues, and talking about our work and private life.
13:00

Experiment

Make research plans and experiments for the projects you belong to. Sometimes I experiment alone, sometimes I work with members.
16:00

[ Summary / discussion of experimental data ]

I create research plans and experiments for the projects I belong to. Sometimes I experiment alone and sometimes I work with other members.
17:30

Summarize/discuss experimental data

I analyze the results of the experiment, consider and plan the experiments for tomorrow. I share information and discuss it with project leaders and other members as needed.