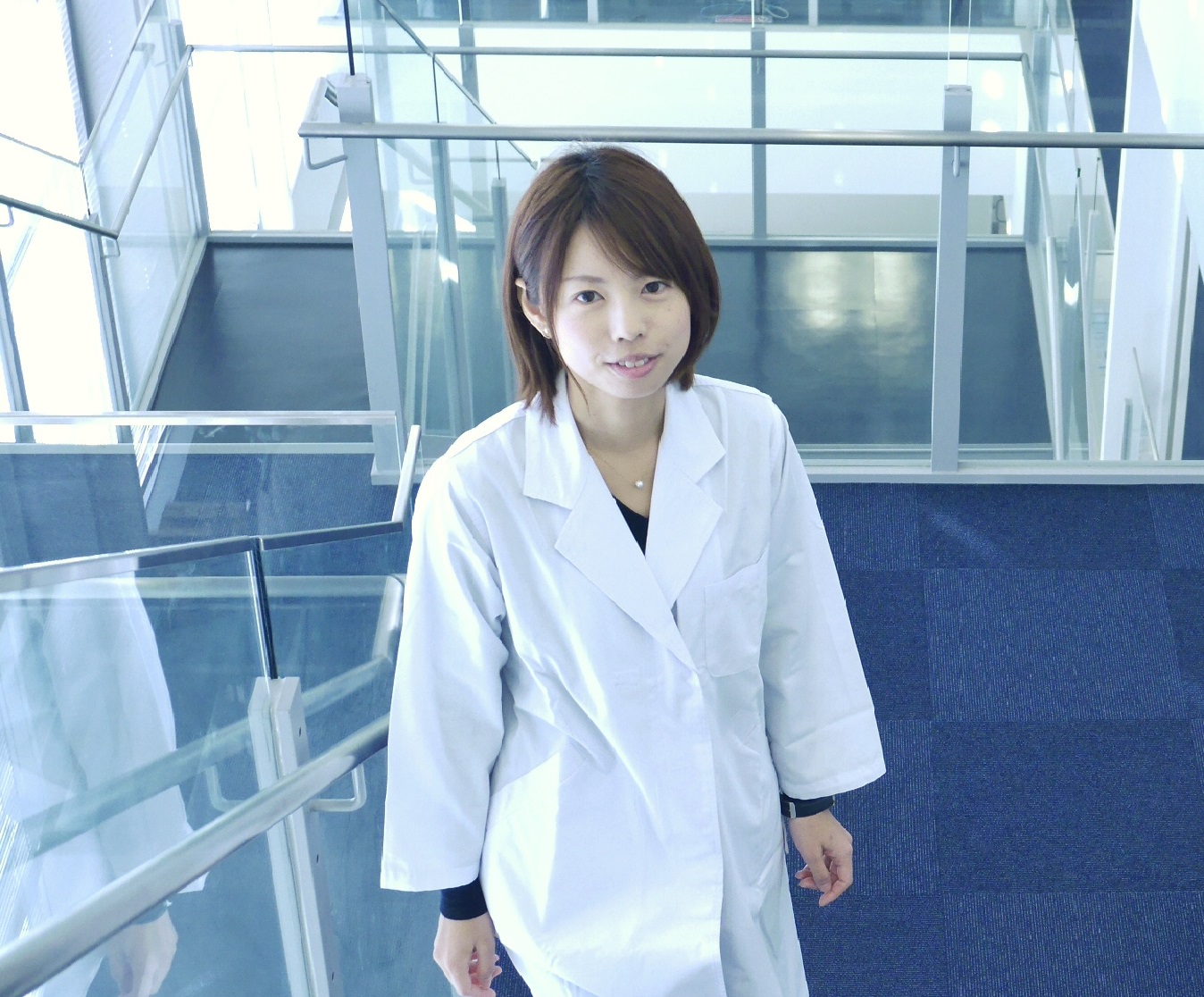 Create never before seen
clinical testing
Joined the company in 2012
New Graduate
Department of Biological Sciences, Graduate School of Science
Summary
Clinical tests can detect abnormalities in the body early and save people before they suffer from illness.

Employees with various specialties such as biology, chemistry, electricity, machinery, and optics work together to develop products.

On holidays, scuba diving and snowboarding with seniors and juniors.
Current Responsibilities
After joining as a new graduate, I worked as a researcher at the Central Research Laboratory for five and a half years. Since then, I have been involved in the commercialization concept phase.
With the concept of creating a highly sensitive measurement platform for the early detection of diseases, we aim to commercialize research applications (RUO). In my daily work, I mainly develop the planning and documentation necessary for experiments and commercialization, as well as a new medical instrument for measuring reagents, so I am proceeding with product development while having discussions with electronic engineers. In addition, there are many relationships with other departments, such as making decisions on product packaging with people in the Design department and Procurement department and discussing tests with the Pharmaceutical Affairs department and Quality Assurance department, so my work is diverse.
Sysmex Career
Central Research Laboratory I developed a sensor that extracts tissue fluid in the body and measures glucose. Although I was not a specialist in sensors, I was in charge of evaluating the surface coating substances of sensors and selecting raw materials from a biological perspective.

[ Central Research Institute ] Changed from the development of glucose measurement sensor in tissue fluid to the group of construction method for measuring protein in tissue fluid in order to make more use of specialization. We obtained clinical usefulness data and made a presentation at an academic conference regarding the research content.

July (3rd year) - September (6th year)

Central Research Laboratory I was responsible for reagent development for a fully automatic high-sensitivity measuring medical instrument that can detect proteins in tissue fluid and blood at an earlier stage. We developed medical devices and reagents jointly with engineers in other departments. I also reported the results at in-house conferences.

October (6th year) - present

Clinical Innovation Division I was moved to the development department to commercialize the above equipment and reagents. I realized that involvement with more departments has increased and that the company is working as one to develop products. I am also greatly inspired by the difference in how I approach my work.
Q&A
Q. Could you tell me the reason why you chose Sysmex?
I became interested in medical care through my studies at university and graduate school. There are various forms of medical care, such as the development of drug testing that detects illness, the development of therapeutic drugs that save sick people, and the medical professionals who use the drugs to treat patients directly. Among them, I was fascinated by examinations that can detect abnormalities in the body at an early stage and save people before they suffer from illness, so I started job hunting. From many companies, Sysmex was very attractive because of the following points: (1) Sysmex can directly utilize its specialty (biological system), (2) It is possible to work with people outside of your specialized field (mechanical, electrical, software, etc.) because it develops instruments as well as test reagents. (3) It is expanding all over the world and contributing to the health of an increasing number of people. Based on these attractive points, I decided to join the company because it came closest to the image of where I wanted to work.
When it comes to corporate research institutes, unlike student research, I thought that the degree of freedom was low. However, my opinion in the first year was reflected in the progress of my project. There was a system called "sprouting research" that allowed me to formulate my own interests into a project, and this greatly changed my image of research at a conservative company.
Q. Could you tell me what you find rewarding about your work?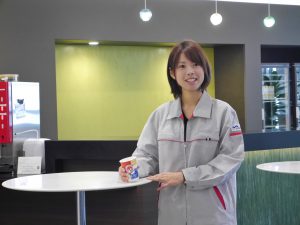 I find it rewarding to be able to consider every day how to utilize the latest technology in examinations and how to provide valuable examinations to patients. On a daily basis, I discuss with my colleagues what technology can be developed into clinical testing based on the information obtained from papers and academic societies, and repeat experiments. Especially at research institutes, I often research product concepts and clinical usefulness and plan projects by myself, so although there was the pressure that my ideas would greatly influence the project policy, it is very rewarding. Since moving to the Clinical Innovation Division, I am delighted to be able to commercialize the projects I have been working on, and every day I enjoy working with people from many departments that are unique to development. Since Sysmex develops equipment and reagents, it is unique and interesting that employees with various specialties such as biology, chemistry, electricity, machinery, and optics work together to develop products. Even in the same science, ideas and experimental methods differ depending on the specialty, so there are many things to learn and it is exciting every day. And I find it very rewarding to think that products developed by consolidating the knowledge of various fields is related to the health of people all over the world.
Q. Could you tell me about balancing your work and private life?
I often spend my holidays with my colleagues. Many people at Sysmex are active, so we often go out on holidays and play sports together, regardless of whether we are seniors or juniors, as well as my peers. It is customary every year to go scuba diving abroad on a paid vacation in the summer and to snowboard with juniors in the winter. There are many friendly people, so not only do we get together and have fun with a large number of people regardless of our department, but sometimes we also share information related to work. Since I belonged to a research institute, I was collecting information on development and markets that I rarely encountered in my daily work, through exchanges like this (laughs). From this kind of connection, it is very helpful to be able to contact each other when there is a problem in business.
Q. Could you tell me about your future goals and how you approach them?
My future goal is to first commercialize the current project for research use (RUO) and build clinical value for our customers and products. Since the product I am currently in charge of is a new marker that is not sold by any manufacturer in the world, we must first introduce it to the market as an RUO product and accumulate clinical usefulness data together with our customers. Since Sysmex is an IVD company, it does not have much of a track record when it comes to developing RUO products, and as it is an internal avant-garde project, there are many difficulties in the development process. Also, regarding the sales method, it is necessary to consider a flow that is different from existing sample test products, and we are discussing this with people in the marketing department. By creating actual examples of RUO products, we believe that the range of Sysmex products will expand and we will be able to provide new value to our customers. It is difficult to enter unchartered waters, but I believe that the joy of success is great, and I work hard with my colleagues every day.
Daily schedule
9:00

Going to the office

I check my daily schedule and email. If there is a meeting, I check the materials in advance. In addition, If there is an experiment, I check the protocol, etc., and work at my desk for about an hour.
10:00

Experiment

The experiment starts based on the protocol planned the day before. On days when there are many meetings, I may ask junior colleagues and dispatch employees to help with the work.
12:00

Lunch

Lunchtime at Techno Cafe with my colleagues. It's time to relax.
13:00

Experiment

I continue with the experiment from the morning. During the waiting times, I return to my desk to summarize past experiment results, create meeting materials, check emails, etc.
15:00

Project meeting

I share information with members regarding the weekly progress. I discuss the results of the experiment and the schedule for the next week and beyond.
17:00

Daily summary

I analyze the experiment results and discuss them with our seniors. In addition, I make a plan for tomorrow based on the results.
18:00

Leaving the office