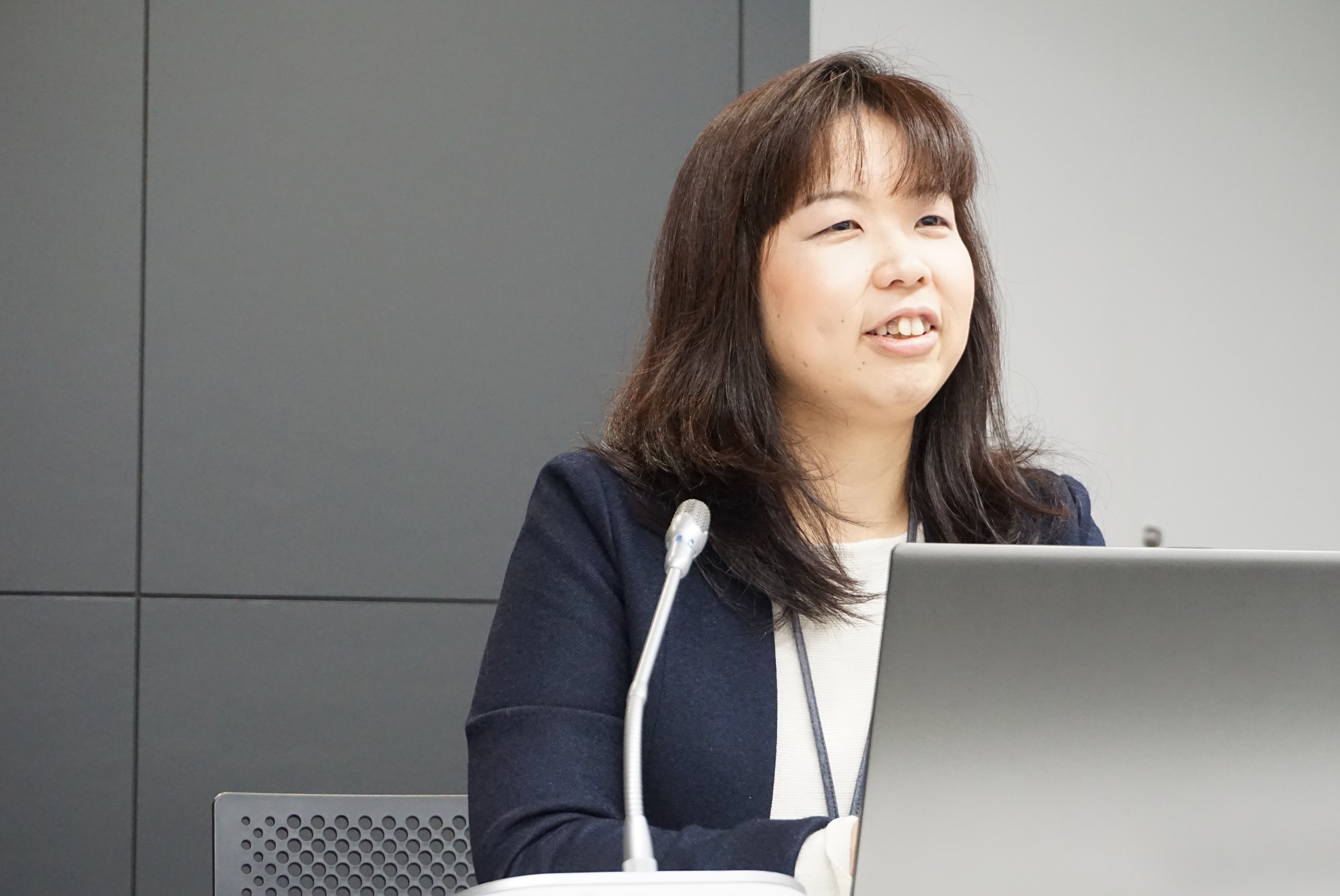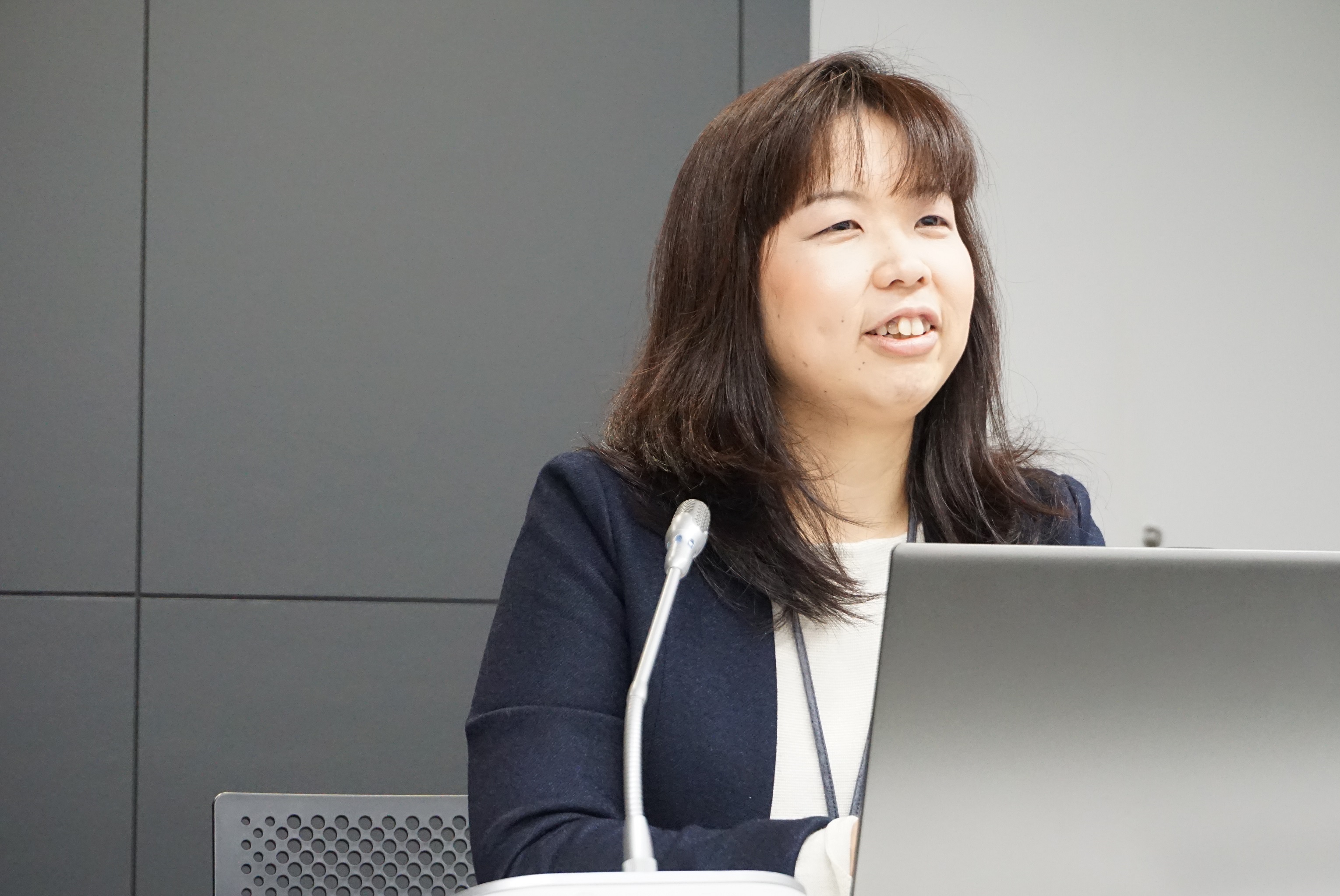 Work with many colleagues.
Having recognized their values
learned from them.
Joined the company in 1999
New Graduate
Faculty of Commerce, Department of Business Administration
Summary
Create opportunities and environments for teams to take on challenges.

Decided to switch to a technical position from a desire to take on more challenges and experience a wide range of work.

Proactive collaboration with others is important for balancing work and family.
Current Responsibilities
I am in charge of reporting information to stakeholders as well as fostering internal awareness and revitalizing activities through in-house public relation activities such as sharing CSR and enlightenment information, collaborating with related departments on specific studies and activities, etc.
Sysmex defines CSR as delivering security to stakeholders through the practice of the Sysmex Way. Since CSR activities are considered business activities, we are always watching the movements of the company and thinking about what we can do as a department.
Sysmex Career
New Business Development Department I was responsible for department management and marketing tool creation for new business-related products. As I got used to my work, I became focused on seeing my ideas take shape.

April (3rd year) - March (7th year)

Comprehensive Planning Department I was in charge of total solution projects and was experienced in building IT systems (CRM) for customer management. After giving birth to my first child, I used my time during childcare leave. I keep studying and collecting information such as the labor laws during the childcare leave for the preparation of the time when I return to work.

April (8th year) - March (12th year)

Domestic Business Promotion Department I was in charge of the planning and production of marketing measures and tools for products in the immunology field. I also was in charge of the HISCL car project, which is a mobile showroom, when the HISCL-2000i was launched. I was entrusted with everything from the selection of partner companies to operate in this project that I had never experienced so far. To be honest, I sometimes felt it was difficult, but it gave me a sense of accomplishment and fulfillment. I started studying as a career consultant while taking childcare leave for the birth of my second child.

April (13th year) - March (15th year)

Advertising Department I was responsible for producing marketing tools such as IVD business-related product catalogs, advertisements, and promotional videos. I participated in sales staff study sessions and worked hard to acquire product knowledge so that I could produce better products together with product staff. It was at this point that I switched to a technical position from an office administration position.

April (16th year) - March (17th year)

R&D Promotion Department I am responsible for the secretariat of various committees in the R&D department budget management and R&D. I also got experience in the construction of an open innovation lab when Techno Park was being renovated. I became a manager and was able to make use of my perspective and knowledge as a career consultant with my team members.

April (18th year) - March (19th year)

Labor Policy Division, Human Resources Department I was involved in a wide range of tasks such as salary and attendance management, social insurance, welfare, and health and safety, with the aim of creating a work environment where all employees can demonstrate their abilities with peace of mind. I learned not only the breadth of work but also many new perspectives in this work for the entire company.

April (19th year) - present

CSR / Environment Promotion Department I have more department negotiations and external meetings than ever before.
Q&A
Q. Could you tell me about something that has left an impression on you?
One experience which left an impression on me was launching the new HISCL, the first immunoassay medical instrument after our business integration with Sysmex International Reagents Co., Ltd. At that time, the market presence of our immunoassay business was by no means high. Therefore, with the aim of raising market awareness, we created a promotion truck called the HISCL car, which has a truck as a showroom and built a system for product demonstrations at medical institutions all over the country. This promotion was very effective, and its successor promotion car is still active in the sales field.
From this initiative and the subsequent promotion, I was struck by the desire to take on more challenges and experience a wider range of work and decided to switch from an office administration position to a technical position. I wasn't worried about this challenge because my supervisor at that time fostered a cultural environment where everyone could take on challenges. Now that I am a supervisor myself, I am conscious of creating an environment where my subordinates can take on challenges with the same peace of mind.
Q. Could you tell me about balancing your work and private life?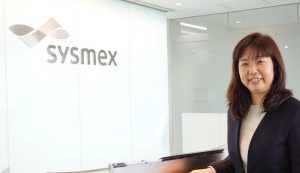 In private, I am a mother of two daughters. In order to balance work and family, I value proactively collaborating with others. It is important to create an environment where everyone can understand and support each other, such as sharing my schedule with team members in advance, always understanding each other's circumstances, and supporting their work. I started studying as a career consultant when I was busy as a mother because my child was homeschooled at elementary school age, and I was worried about whether I could continue to achieve both. By learning about my career and working style, my worries were alleviated. I would like to make use of my experience and qualifications to convey to those around me that there are various ways of working.
Q. What is the atmosphere like in the company?
I think it's an environment where everyone can take on various challenges while being stimulated by their surroundings. I am excited to be involved in projects that I never had experienced in Sysmex or ones that involve the entire company. Each Sysmex employee has a high degree of specialization, and everyone makes the most of their specialties and strengths. In addition, we are a company that brings together its respective strengths and works as one toward a major purpose. I would like to be a person of many talents so that I can continue to build my career at Sysmex. In addition, I always think about my potential and shortcomings when observing our and other organizations' values.
Q. Could you tell me about any significant growth in your career so far?
I have experience working in many departments such as sales, R&D, and as corporate staff, and I was able to experience the functions and operations of the company organization, meet many colleagues, and come into contact with many values so far. I have taken what I have learned from these experiences onboard. Although the departments that I have belonged to so far are very diverse, I was able to build my own career plan and strengths through these career experiences because I always thought about my own value and what I was lacking based not only on internal but also on external evaluations. It is difficult to keep on top of work when changing jobs, but I am always working on this to ensure that projects are successful and exceed expectations every time.
Daily schedule
9:00

Going to the office

It starts by checking my schedule and tasks for the day.
10:00

Section meeting

We check the progress of departmental issues, share information, and discuss internal topics from a CSR perspective.
12:00

Lunch

I enjoy some girls' talks to make me feel refreshed. Exchanging information with people who have kids is also helpful.
13:00

Working group meeting

We discuss plans for social contribution activities under the group unification policy and consider how to carry them out.
15:00

Creating material

We create a plan for higher-level project deliberation based on what was discussed in the working group.
17:30

Leaving the office

19:30

Childcare

I read my child's school documents, etc.
20:00

Housework

I make tomorrow's dinner today. Once that's done, it's my time.