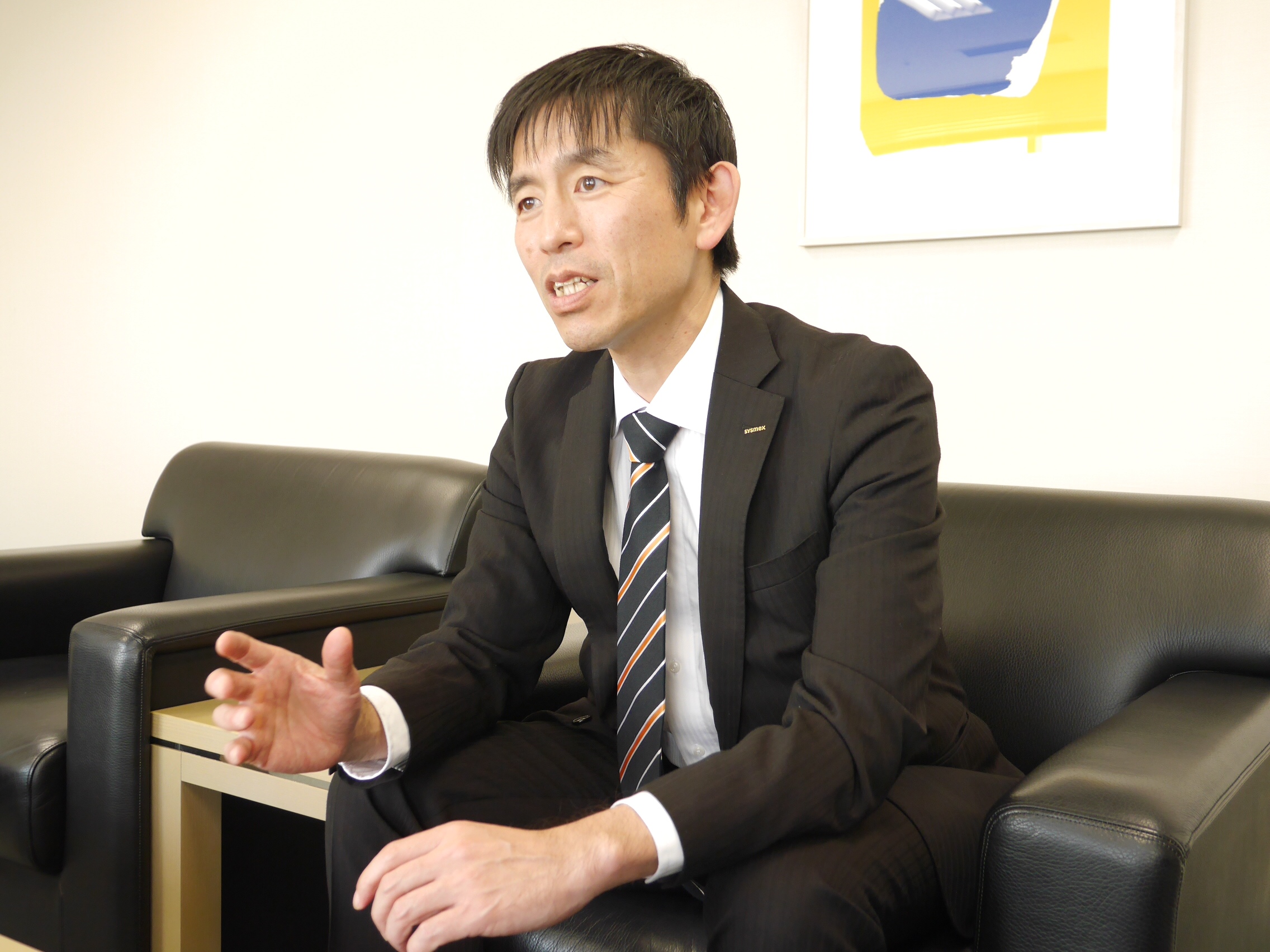 Providing new medical value
to society
MR Business Promotion Dept.
Joined the company in 1995
New Graduate
Faculty of Business Administration, Department of Business Administration
Summary
In sales it is important to think of the product and how to sell it as a set

The feeling of contributing to healthcare in a meaningful way by improving clinical values

People who can put thought into action, be agile and achieve their goals
Current Responsibilities
Since 2017, I have been working in the MR Business Development Department, where I am in charge of strategic planning for the early commercialization of new technologies, as well as planning and promoting marketing activities.
I have been developing business models in markets that are new to us, such as the corporate health checkup market and health insurance associations, and most recently I have been involved in promoting the medical robotics business of Medicaroid Corporation, which was established as a joint venture between Kawasaki Heavy Industries, Ltd. and Sysmex. It's a new experience and a lot of hard work, but it's a very rewarding job in terms of providing new value to society.
Sysmex Career
[Osaka Branch, Hiroshima Sales Office and Sales & Marketing West/Japan Division, Hiroshima Branch, Sales Section] Initially, I was involved in sales to clinics and small and medium-sized hospitals in the area I was responsible for. In my third year I was involved in sales to major facilities in Hiroshima.

April (10th year) ~ March (17th year)

[Sales & Marketing West/Japan, Kanazawa Sales Office Manager] I was involved in sales servicing large-sized hospitals in the Kanazawa area. From 2010, I was responsible for all sales and service in the three Hokuriku prefectures of Ishikawa, Toyama and Fukui.

April (18th year) ~ March (21st year)

[Personnel Div. Labor Policy Section Director] My role was to raise employee engagement by providing a safe and enjoyable working environment. I experienced many different types of work, including planning and implementing various systems and structures, and collaborating with management and unions.

April (22nd year) ~ September (23rd year)

[Clinical Innovation Business Development Div. Director, HU Business Development Section Director] I was mainly forcusing on the commercialization of newly created technologies and worked on establishing new markets that could utilize our technologies and products.

October (23rd year) ~ Present

[MR Business Promotion Office, Director] MR stands for Medical Robotics, and I am currently responsible for promoting new business opportunities for the company.
Q&A
Q. Could you tell me about an experience that has left a lasting impression on you?
When I was involved in sales, I went through a trial and error process to find out how to get our equipment installed in university hospitals that were also our customers.
The testing instruments that sales people propose to hospitals is very expensive and has a long replacement cycle, so once you miss an opportunity, the next renewal is often ten years away. In addition, due to the special nature of the medical field, customers do not easily change from one manufacturer of testing instruments to another, as replacing the instrument with another company's product would change the standard values of the test. Back when I joined the company amidst such a market environment, I worried about how to make proposals, and I spent my days thinking about what customers want and how to make them choose us.
Through a process of trial and error, I came to realize that I shouldn't just view the laboratory technician as merely a customer, but also as a specialist who analyzes test results. From that point on I made an extra effort to better support laboratory technicians by promoting our products to improve clinical values. This not only increases the amount of useful information for diagnosis, but also improves the patient's quality of life and reduces costs, which is beneficial for hospitals and patients, as well as for us. During this process, I felt that I was making a direct contribution to healthcare, and I met some great clinicians who spared no efforts for their patients. It also motivated me and made me feel very fulfilled. After that, I was very happy when, in my fifth year with the company, a university hospital, which had previously only used blood cell analysis instruments from another company, switched to using our instrument.
Q. What skills do you think you are developing at Sysmex every day?
Management skills and human skills.
In my current department, it is necessary for me to communicate smoothly and build good relationships with a wide range of people in the same business environment, not only in my own company but also in our affiliated companies and so on. I also recognize the need to organize and express abstract ideas, and to identify what is truly important in various situations. I try to take as much time as possible to work on and gain experience in these areas.
Q. What is your vision for the future?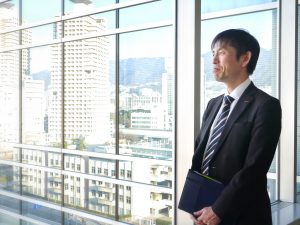 In the future, I would like to work in sales again.
In addition to sales, I have worked in other areas, such as human resources and strategic planning, which are slightly different in nature from sales, but in my mind, the experience and knowledge I have gained in each of these areas are connected.
Recently, the development of genetic testing has been very active, and the technology is constantly evolving. However, no matter how good the technology or the product is, it is not enough, and there are many products that disappear without ever reaching the market. The important thing is to think of how to sell the product as a part of a set, and I would like to use my experience to set up initiatives to ensure that the value of our products is recognized in the market.
Q. Finally, what kind of people do you think are able to work well in your current team?
People with the ability to execute.
In my current department, there are many people who are good at coming up with ideas and creating concepts. However, it is only when they are able to put these ideas into practice and implement them that the ideas will bear fruit, and the people who can do this are the ones who stand out. This is because the role of business promotion and strategic planning is to create new markets and generate new value. A lot of things don't work the way they did in the past, so that's why I believe we need people who are able to put their ideas into action, and if there is a problem, be flexible and try new ways of doing things to achieve results.
Daily schedule
8:30

[Start Work]

9:00

[Business Plan/Management Plan Meeting]

I hold meetings to discuss and draw up strategies to get the business on track and to set the stage for step-by-step progression over the next 10 years.
11:00

[Business Plan/Management Plan Meeting]

I have individual meetings with project members.
13:00

[Sales and Service Working Group Meeting]

I engage in discussions on the development of business promotion systems which would ensure that our products are widely used and with peace of mind.
16:00

[Sales and Service Working Group Meeting]

I have individual meetings with working group members.
17:00

[Daily Summary]

I sumarize the results of meetings and working group discussions and then prepare for the next round of meetings.
19:00

[Leave Work]