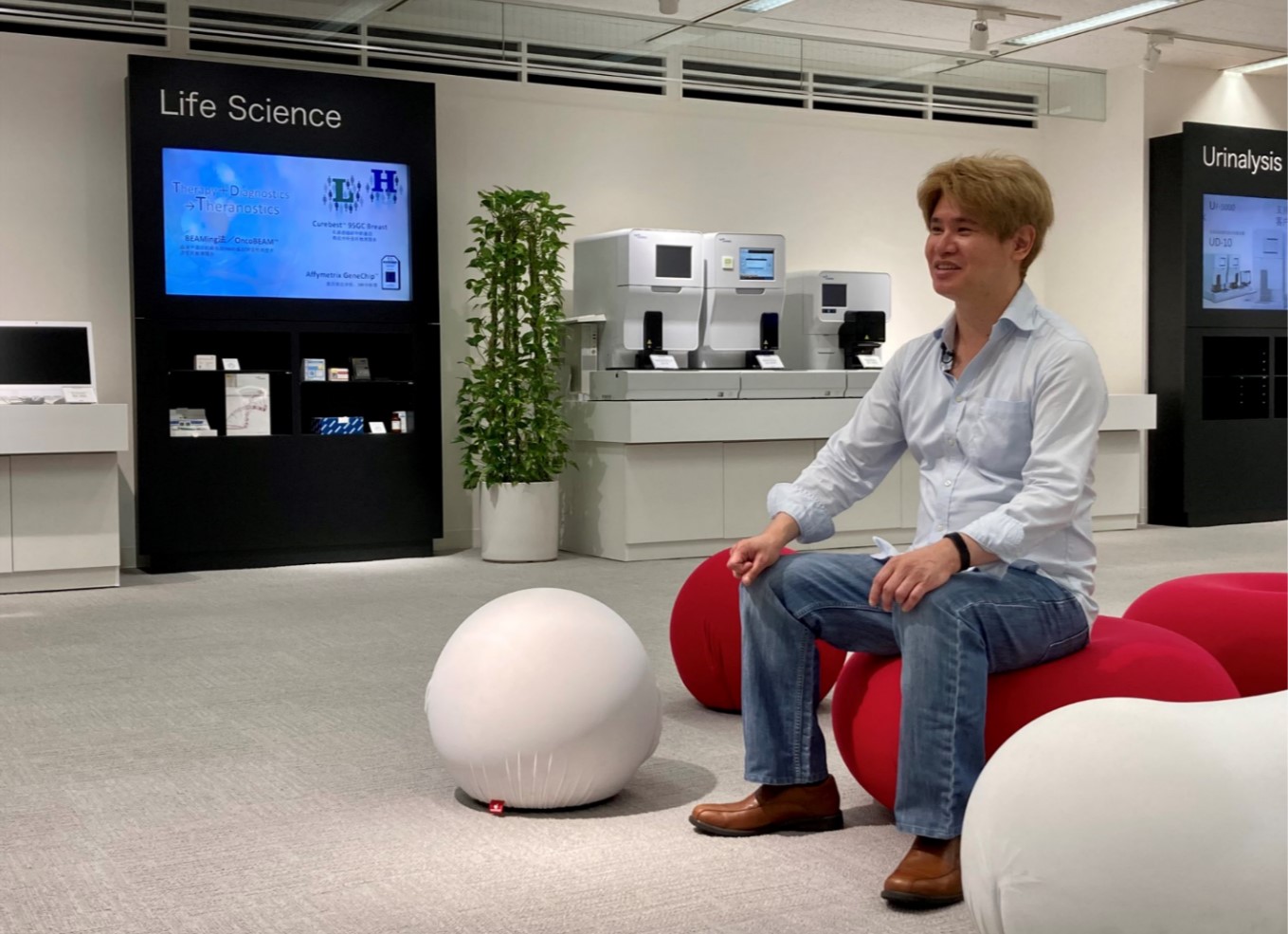 We are striving to be even more
innovative to make the world better
Joined the company in 2020
Career
Business
Current Responsibilities
I have the following two roles:
(1)Global Caresphere R & D Lead:
Caresphere is an innovative software product that utilizes network and cloud services and visualizes the data on web applications. I am working with engineers and business partners and leading them to develop new products and new features incorporating creative ideas and feedback from our customers.
(2)Lead of Project Greek:
Deep-level digital transformation is important for a leading company like Sysmex. Digital transformation or digitalization is not only adopting packaged software products, it can also refer to a culture change as well as educating all employees so that the whole company can take advantage of digital data and digital products. That's why I started a grassroot level digitalization initiative named Project Greek.
Under Project Greek, we have many small projects like:
・Alpha Project: Developing software with Sillicon Valley methodology and culture
・Gamma Project: Piloting cool and innovative digital gadgets
・Delta Project: Giving training to employees for data analysis with AI (machine learning)
・Theta Project: Optimizing human resource assignments utilizing the latest game theory developed by The University of Tokyo
・Sigma Project: Creating a knowledge base to promote community support culture.
・Mu Project: Developing UI for medical devices
・Omega Project: Developing useful web tools for employees to contribute to productivity
All of these small projects are really exciting and I work with more than 40 colleagues for those projects. In addition to those projects above, we plan to start even more thrilling projects utilizing deep learning and quantum computing.
Sysmex Career
Corporate Business Planning After I joined Sysmex, I gave talks about myself, my career, innovative design thinking methodology, and tips for working productively. One-sixth of employees attended these sessions and they were software/hardware engineers, researchers, sales, etc. from Japan and other nationalities that I felt it diverse. They are so keen on learning new things and want to improve themselves. Even though Sysmex is already a leading company in the healthcare market, they are always passionate about innovation. Can you imagine even secretaries and receptionists are enthusiastic about innovation!?

April (2nd year) - present

DX strategy Development Sysmex employees are really nice people and they really want to improve themselves. When I started Project Greek for grassroot digitalization, more than 30 employees applied to join the project in a few days. They brought a lot of creative ideas on deeper digitalization. They have been working really hard with great passion. They have been learning a lot of new technologies and new cultures. Many members said, "We can't stop working from early morning till midnight because everything we are learning is fun." They love learning. They love cutting-edge technologies. They are also really proud of contributing to making the world's healthcare better.
Q&A
Q. Why did you choose Sysmex?
I worked for Google for 14 years. (4 years in Japan and 10 years in the USA). It was an absolutely amazing place to work. But 14 years was too long for me and I wanted to do something new in a new domain. Also, I was looking for an opportunity to teach a lot of skills I learned in my career to contribute to my home country and a company especially in my hometown of Kobe.
Sysmex is one of the most innovative companies in Japan. I am more than happy to devote my remaining career to such an exciting company. In addition, all the people who interviewed me were smart and very pleasant. Working with smart people is another motivating factor for me.
Q. Could you tell me what you value about your work?
Working with great people is most important for me. Great people can be excellent performers, really skillful employees, super creative individuals, experienced engineers, people who show great passion and enthusiasm, or even great learners. I can find all those people in Sysmex and I am really enjoying working with them every day.
Q. Could you tell me when do you feel the moment you motivated or happy?
"Have fun at work" is my motto. I really enjoy myself at work and I always try to make sure my colleagues enjoy their work too. For instance, I usually try to introduce new and novel ways to make my colleagues relax. For instance, we schedule meetings in stylish cafes, arrange meetings and discussions while enjoying English-style afternoon tea and scones, and we even sometimes plan team bonding activities such as horseback riding! Such a cool change motivates my colleagues and me and connects to good work on coming up with new and creative ideas. Also, I love praising all my colleagues around me. Praising each other and accepting failure as a result of a great trial makes our work more creative, more productive, and more motivating.
Q. Do you have a message for students currently looking for a job?
Sysmex is a leading company in the healthcare industry but we are striving to be even more innovative to make the world better. I am so excited to work with great people here and teach them how to be more productive just like at Google. Join us to change the world with innovative technologies. I am really looking forward to working with you!