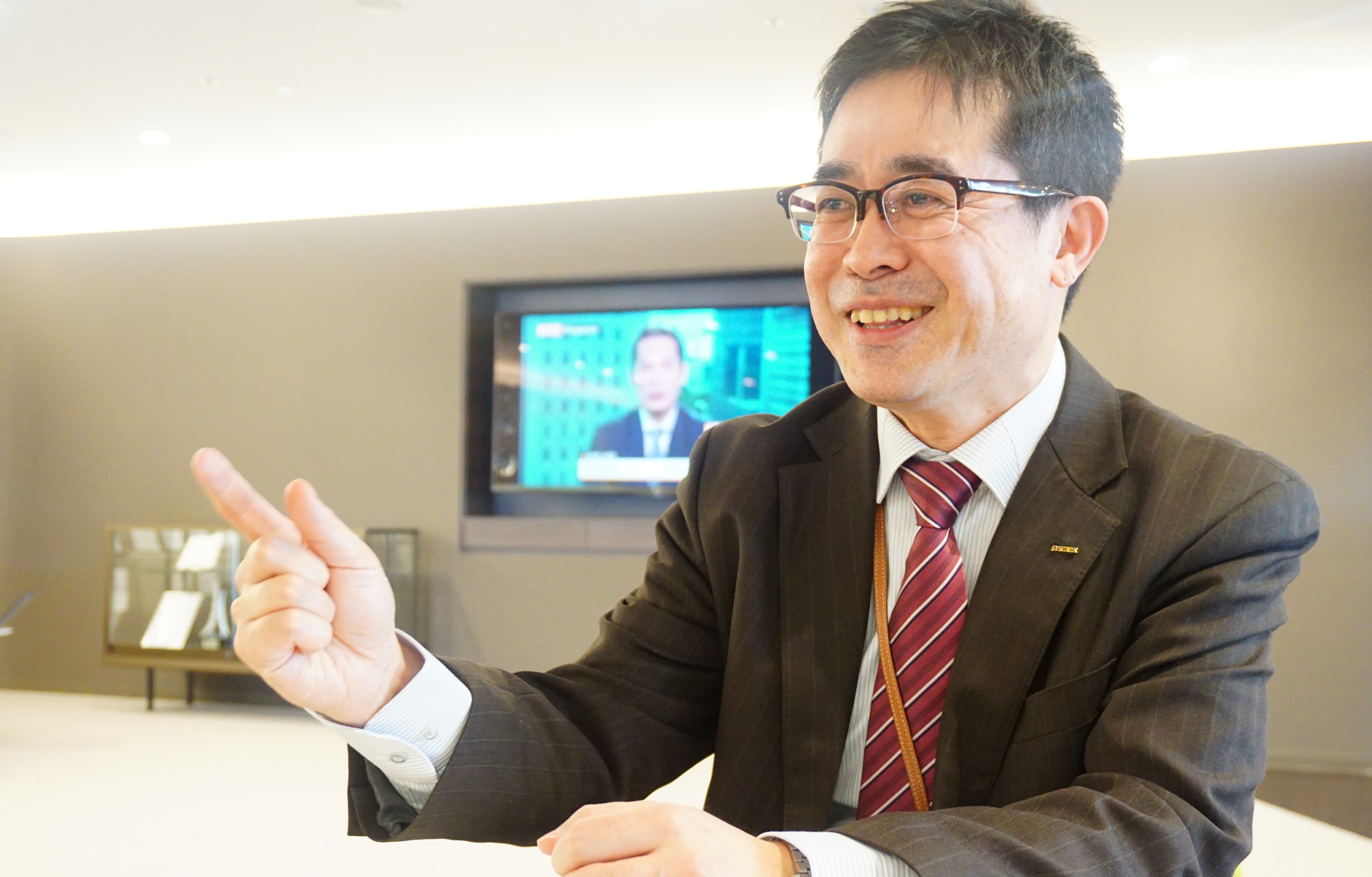 Building an optimal value chain
as a product manager
First Engineering Div. Cell Technology Group
Joined the company in 1996
New Graduate
Department of Material Engineering
Summary
Working at the frontlines of healthcare has made me realise I can contribute to people's health

I was able to broaden the scope and horizons of my work through a career change

What I'm looking for are human resources that take an interest in everything!
Current Responsibilities
I am responsible for the development of cell-based testing technologies and product development projects. In addition to development, I am also a member of the global product marketing team, working on planning and strategy.
In my role as a product manager, I am responsible for maximizing the added value that forms the core of our products by leveraging my experience and the contacts I have made both internally and externally, while working across the business and value chain.
Sysmex Career
I was involved in reagent development for the high-end hematology equipment, XE -2100. I truly felt the technological potential of our company, which can integrate various technologies by collaborating with hardware and software engineers.

I worked on promoting the development of elements that led to new tests for blood diseases (e.g. leukaemia). My work included extended stays at hospital facilities in Japan and overseas. The opportunity to be in direct contact with clinicians and patients reaffirmed the significance of our healthcare mission.

In order to contribute to clinical practice, I worked to improve the clinical value of our hematology testing instruments. I found that new tests could make greater contributions to patients and clinicians, for example by increasing the possibility of making appropriate treatment decisions.

I worked on the product development of the XN series, our flagship model that is the driving force behind our position as the global leader in the hematology field. I also worked with overseas marketing and scientific members, as well as a diverse range of specialist engineers, to complete our next-generation of products at that time. I implemented high-level integration of in-house human resources on a global basis and later became a section manager and then a senior researcher, which made me realize the importance of management and leadership.

I was assigned to the Clinical Development Department, where I focused on improving the clinical value of our products and measures for global market penetration. I learned that in order to make a broad contribution to the clinical field, a wide range of initiatives and strategies are required, including not only technology, but also regulatory affairs and regional policies.

I was transferred to the Human Resources Department and worked as a director. My experience in recruiting and planning HR policies made me realize again the breadth of work in the company, and I truly felt the importance and potential of human resources and the role it plays.

I moved to the Corporate Business Planning Department, where I served as vice president. From a high and broad perspective, I worked on the management of the company, understanding the current state of the company's processes from the point of view of its structure, organizations and rules. It was a very challenging but rewarding job.

I joined my current department, the Cell Technology Group, where I'm working on a project to develop a measurement system for cells.
Q&A
Q. Could you tell us about your work at the time of joining the company?
I was involved in the development of diagnostic products in the hematology field. At the time, we were still trying to become global No. 1 in hematology and were developing products that could help us achieve this aim. A product is not something that can be created by one person, but by many engineers who come from different backgrounds and possess expertise in different fields. I remember how motivated I had been when the product I was involved in was launched for the first time and saw it actually installed in a customer's laboratory.
Since then, we have increased our market share in hematology, and we have seen other companies' products being replaced with our own in medical institutions all over the world. When our customers told us that we had developed an amazing product, I felt a renewed sense of pride in my work.
Q. Could you tell me about an experience that has left a lasting impression on you?
I remember I was in the United States for an extended stay on a joint research project. When I visited the children's wards, I met many children who were fighting leukemia along with their families. When they heard about my research, they had high hopes for my contribution to the future development of medicine. I felt a strong sense of mission to meet their expectations and contribute to advancing healthcare. I had been involved in the development of diagnostic reagents and studies related to their clinical efficacy, and had gained experience and knowledge from my work, but this visit was one of the most memorable experiences of my working life. Meeting the children and their families gave me a new appreciation of the contribution my work can make to the health of people around the world. The medical practice and the patients I saw with my own eyes are still vivid in my mind and are the source of why I work for a healthcare company.
Q. Could you tell me about the experiences you've had that are unique to working at Sysmex in particular?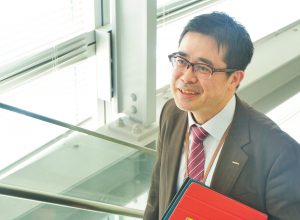 I had built my career in research and development, but working in departments that are close to management, such as the Human Resources Department and Corporate Planning, enabled me to gain experiences different from anything I'd had before. It was a big change for me to move from working mainly with products to working with people (employees). In my work in the Human Resources Department, I came into contact with a wide range of employees, from people straight out of school to mid-career professionals, and I came to realize that the most important asset of a company is its people. I believe that people are the most important element that holds the key to corporate transformation. I can say that this was an experience that I could not have had if I had only worked in research and development focusing on products. In Corporate Planning, I analyzed a variety of internal and external information in order to examine the direction of the company and support management decision-making. Being involved in the management of Sysmex in the future, I felt a different kind of responsibility than I'd had in the past. I also needed to understand the situation in departments I had never worked in before, as I needed to work with an understanding of the whole Group. It was one of the most exciting things I'd ever done, thinking about things in a complex way from a variety of different sources and deciding on the big direction of the company from a high and broad perspective.
One of the characteristics of Sysmex's human resources development is that you can experience not only a career as a product development specialist, but also broaden your work and perspective by working in various fields. The career change has been good for me and has helped me to develop a higher perspective and broaden my horizons.
Q. What are your expectations of students who want to apply for Sysmex?
I would like them to take an interest in everything. It's important to have a keen interest in all aspects of the job and to study hard to understand it. At Sysmex, opportunities come to those who raise their hands, and we have an environment that encourages taking on challenges. I believe that by taking on many opportunities on your own, you will grow, and in doing so, you will be able to grasp bigger and more interesting opportunities.
Daily schedule
8:30

[Begin Work]

I commute from home to work by bicycle.
9:00

[Task Confirmation]

I review tasks for myself and other members. If something urgent comes up, I'll take action, such as rearrange the scheduling.
9:30

[Promotion of Communication Tasks with Stakeholders]

I provide direction and input to relevant departments and members of my own team via email and telephone as required. Whenever possible, I will visit in person to reach a face-to-face consensus on difficult issues or matters that require coordination to ensure that the goals are met.
12:00

[Lunch]

I take lunch in our cafeteria, read newspapers and check stocks.
13:00

[Conference]

I take part in global meetings with leaders from various regions to discuss product specifications and strategies. I act as a facilitator and work through conflicts of opinion to reach consensus. At the end of the meeting, we reconfirm the decisions to improve the accuracy of the implementation after the meeting. When the languages and ideas of the members are different, it is important to check and confirm the consensus again.
16:00

[Data Preparation]

I create a proposal for a project in which I myself participate as a member. I improve the effectiveness of my proposal by checking that it does not diverge from the opinions of the field staff, while sometimes talking to other young members.
18:00

[Conference]

I bring together relevant parties on matters that require urgent attention. I always try to discuss short and long term perspectives and reach a consensus on the most effective way to deal with the situation.
19:00

[Leave Work]

I return home and chat with my family over dinner. I usually devote the rest of my evening to my hobbies (practice playing instruments for next month's concert, chat with band members, etc.)