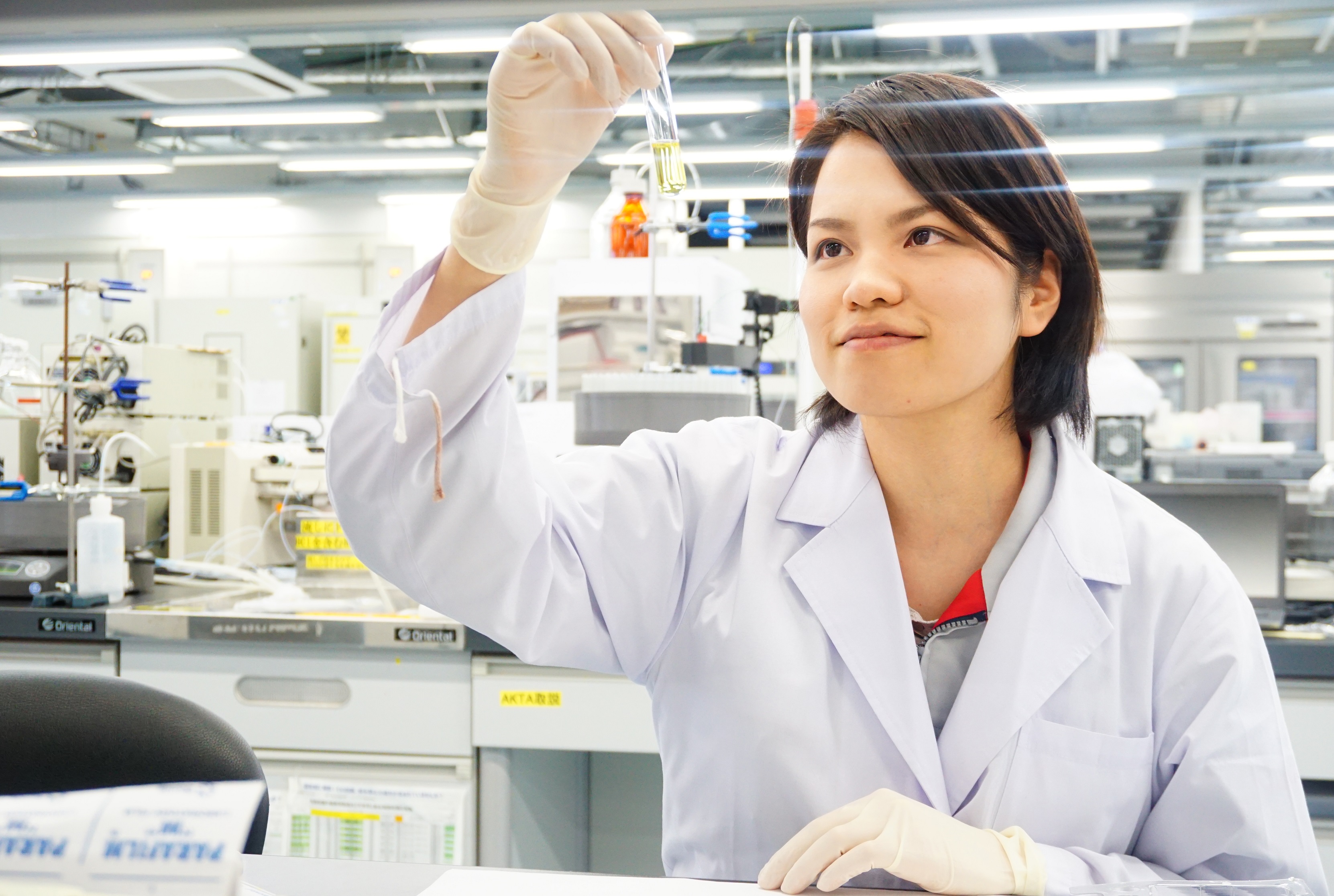 Involved in several processes
from composition review to
regulatory application
Develop new reagents
Joined the company in 2012
New Graduate
Faculty of Medicine, Department of Health Sciences, Department of Laboratory Technology Science
Summary
The products that I am involved in contribute to people's health.

A work environment where young people can play an active role and work for many years.

Developing products with members who have persistence and calm judgment.
Current Responsibilities
I am in charge of developing reagents for new clinical testing items for HISCL, the immunoassay medical instrument. Specifically, I am responsible for the modification and labeling methods of antigens and antibodies used for measurement and establishing reagent compositions. It is necessary to carry out various studies and repeat the examination based on all the results. Even once the reagent design has been decided, there are studies to scale up the manufacturing process from laboratory-level capacity to factory-level capacity, joint research with external facilities, regulatory applications to obtain marketing permission, etc. We do a wide range of work. It takes about three to four years to develop one reagent, and it requires the cooperation of everyone involved. I always try to communicate closely not only with my own but also with related departments.
Sysmex Career
Responsible for product improvement After joining the company, I focused on acquiring skills related to the development of HISCL reagents. Since I was in charge of improving products after their release, I developed a way of thinking necessary for development, such as from what perspective we should proceed.

April (2nd year) - September (3rd year)

Responsible for new technology analysis From my second year, I worked on improving product quality. By making full use of the latest analysis technology, I was able to learn how to approach it from a different perspective. I also learned the importance of being bound by stereotypes.

October (3rd year) - January (6th year)

Responsible for new item development I was in charge of developing reagents from scratch. In development, I often have to cooperate with various departments, so I feel the importance of cooperation not only with the technical department but also with other related departments.
Q&A
Q. Could you tell me about something that has left an impression on you?
It was the moment the decision was taken to release a product in which I was mainly involved with the product design. There were many other things that I feel happy about, but the joy at that time was incomparable. I still remember the great sense of accomplishment that I felt, and was rewarded for my various efforts leading up to the launch. I recognized my desire to contribute to improving the QOL of patients in the field of clinical testing since I joined the company, and I once again realized that I could contribute to medical care. I also was very happy to be able to help patients all over the world through the product.
Q. Could you tell me what the atmosphere is like in the company?
In this environment, young people can play an active role. Even young employees have many opportunities to take responsibility for their work, and they can take on more advanced challenges if they wish. I think that one of the characteristics of employees is that there are many friendly people. Many employees like communication, so there is always an atmosphere where it is easy to talk and ask questions. In development, there are many jobs that are done by teams rather than by one person, so it is important to help each other. In addition, the R&D department has a system in which senior employees provide guidance as trainers during our first year with the company. This system is very encouraging for new employees, and you can get support from senior employees if you have any non-work-related questions, not to mention work-related. In addition, there is a flextime system and a work from home system. There are many employees who are using it. Working from home is available for all employees and I think we have an environment in which we can work for many years while balancing childcare and caregiving.
Q. Could you tell me if you have the common attributes of a Sysmex employee?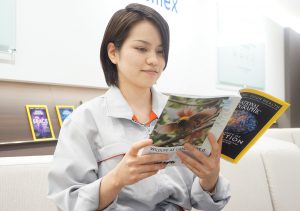 Many employees have persistence and calm judgment. Various problems occur while developing a product. On the other hand, it is necessary to have the tenacity to solve problems one by one. It is tough tackling issues while the delivery date is fixed, but I think that many employees calmly judge and tackle problems without getting confused or ignoring them. Also, I think there are many employees who are good at switching on and off. Everyone takes their work seriously, and everyone enjoys talking and having a good time when there is a short break. I often hear about people's hobbies on holidays and go out with other employees who joined the company at the same time as me. I think that I need to be active in the long term by working hard on my work and private life.
Daily schedule
9:30

Going to the office

I worked overtime yesterday, so I went to the office late morning. By using the flextime system, I can adjust my working hours. After getting to the office, I reply to email inquiries and confirm today's work.
10:30

Meeting

Team members check their work progress, and if there are any issues, everyone discusses them. I can often get ideas and find solutions.
11:30

Experiment preparation

I prepare for the experiments to be conducted in the afternoon. I make effective use of this time.
12:00

Lunch

I have a relaxed lunch in Techno Cafe.
13:00

Experiment

I prepared well in the morning, so I can start the experiments smoothly.
16:30

Meeting

I have meetings with related departments. I can work efficiently by talking directly as well as by email.
17:30

Summary of experimental results

I summarize the experimental results and report them to my manager.
18:30

Leaving the office