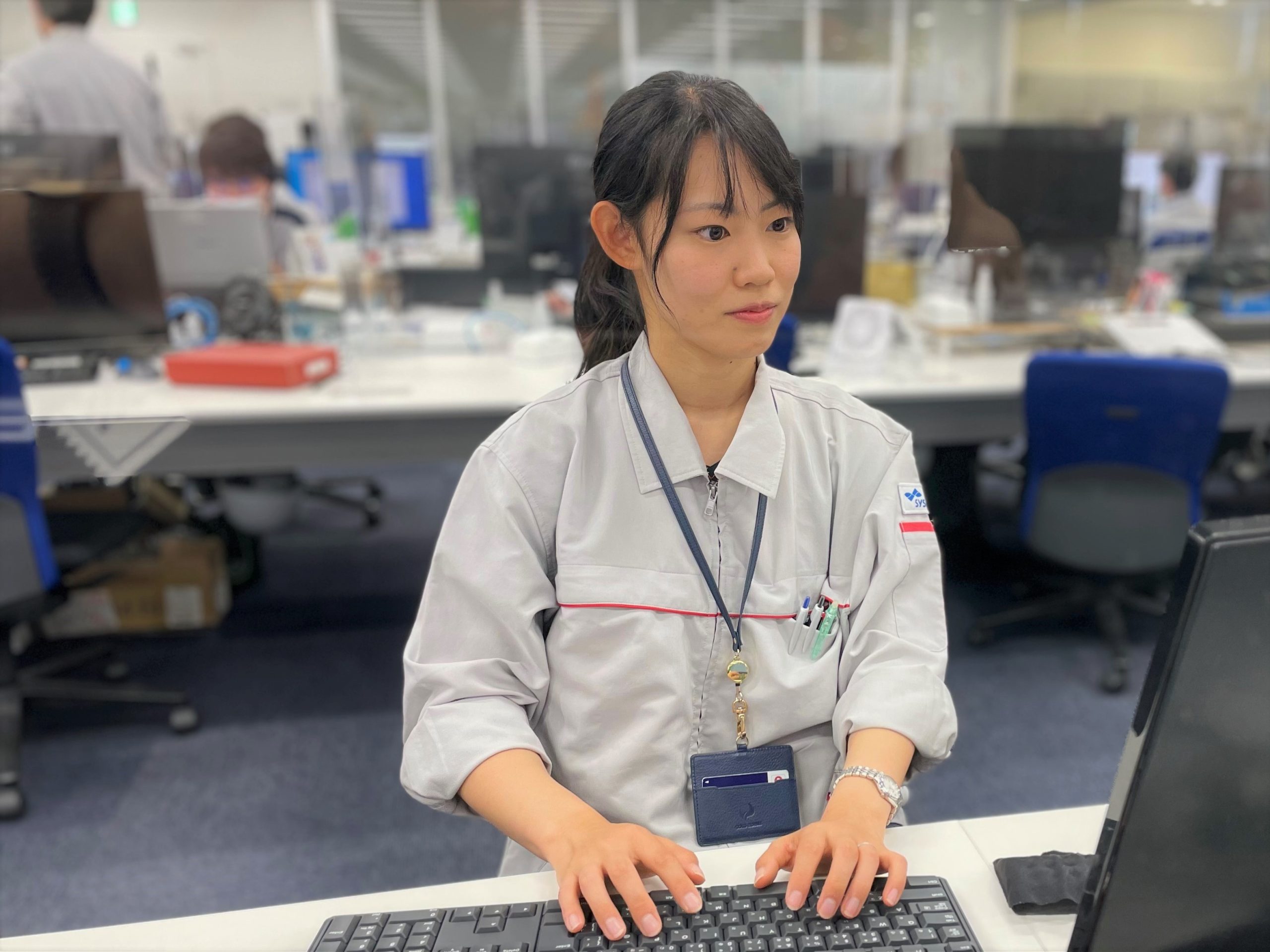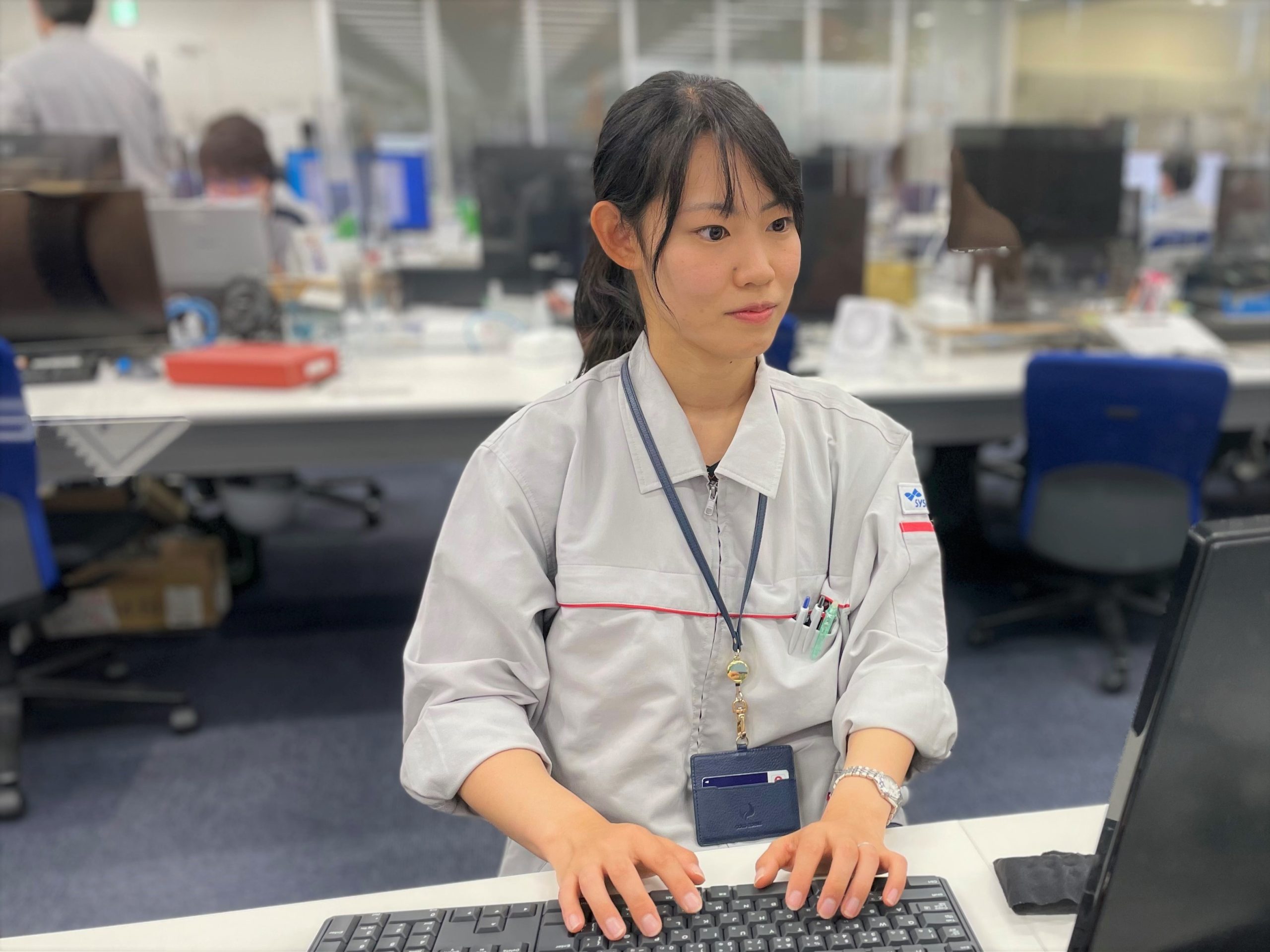 I want to deliver happiness with technology
to both healthy and sick people
Joined the company in 2017
New Graduate
Mechanical engineering
Current Responsibilities
The Software Technology Group's analysis team mainly develops software for medical instruments that analyze components in the urinalysis and hematology fields. The software development team is made up of engineers with various specialties and I am involved in developing algorithms that analyze data obtained from medical instruments to provide clinical testing results.
Q&A
Q. Why did you choose Sysmex?
My biggest motivation for joining the company was that I was attracted to clinical testing. Not only from my own experience of illness but also from the experience of those close to me, I wanted to bring happiness to both healthy and sick people through technology. People often receive medical treatment after getting sick, but the clinical testing business which Sysmex covers is for both healthy and sick people. I was fascinated by the idea that I could help more people while working in healthcare.
Q. Could you tell me more about your current work?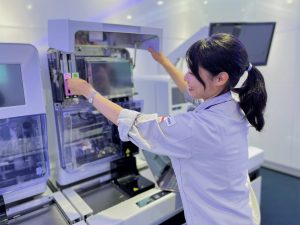 The analysis team produces clinical test results. We are developing algorithms to quickly and accurately obtain these results based on electrical signals and particle distribution data using laser light and electrical resistance from samples such as blood and urine.
It is not just judging whether the data is normal or abnormal, but also obtaining accurate test results even when the sample result pattern is outside of the normal range, because test results may ultimately be used in a medical setting and have a significant effect on the patient's medical treatment.
In terms of how our products are created, we consider what kind of data should we collect, what kind of technologies we need based on product planning such as product specification, and how they compare to other products. At this stage, we often cooperate with departments that are closely related to our customers, such as Business Promotion and Scientific Affairs. We then start collecting actual clinical data and understand problems by analyzing the clinical results. Devices are closely related to diagnostic reagents, so we need to take into account the technical point of view in various fields such as hardware, electricity, and diagnostic reagent when analyzing the data. At this stage, we discuss not only with our own department but also with engineers in other departments. After that, we create a prototype algorithm and conduct a performance evaluation. We sometimes create these prototypes many times until we reach our performance goal. At that stage, the algorithm is implemented as software and installed on the device. The project duration is different depending on the scale of the project, with some projects taking as little as three months and others as long as five years.
Q. Could you tell me what you find rewarding and interesting about your work?
I find it rewarding when we can release a product created by our team to the world, or when I feel that the technology I created is useful for someone. We also receive customer feedback and I feel very happy when I receive a good product evaluation such as data accuracy. On the other hand, when I receive feedback that our technology has caused inconvenience to customers, I sometimes reflect on what I could have done differently. Those regrets act as a driving force on the next project.
I also find daily collaboration with engineers from different fields very interesting. When reagent, hardware, and software technologies are combined with expert engineers, even small ideas can become a technology, a form, and finally a product. I think it's fun for engineers who work for manufacturers.
All the members of the team are energetic. We identify our final goals and objectives and check them regularly, but because the methods are not specified, I have the flexibility to move forward by learning the necessary skills and getting support from others. The more I have expanded my skills and the more personal connections I have made through the work, the more my desire for knowledge has increased, and I still have more things I want to study and various experiences I want to have.
Q. Do you have a message for students currently looking for a job?
Ever since I graduated from university and got a job, I always feel that my work is fun! Through my work at Sysmex, I also feel that I am gradually changing and growing. The experience of my ideas firstly becoming technologies, then tangible shapes, and eventually products, has enabled me to set many goals that I thought were impossible in the past. Nowadays, my work is becoming important for my life.
After joining the company, I think it is important to embrace what you don't know instead of being afraid of failure and stop learning. I think you can enjoy your work if you actively recognize what you do not know and collaborate with others.
If you feel that you want to work in Sysmex, please do not hesitate to apply.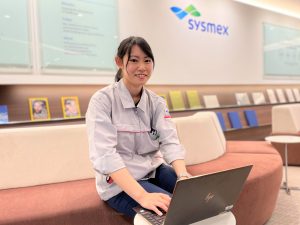 Daily schedule
8:30

Routine tasks (emails, in-house applications, etc.)

I come to work early on days when there are many meetings.
10:00

Online meetings, etc.

I join online meetings with partner companies or other departments in Sysmex.
12:00

Lunch

I use the cafeteria in the Technopark.
13:00

Material creation

I make documents for project meetings and report verification results to team members.
15:00

Team meetings, etc.

We discuss the progress of our projects with each other
17:00

Create and send minutes and reply to emails

I am sometimes busy until 20:00, but I try to concentrate on work as much as possible in the evening because I want to keep my free time for studying and playing tennis.
18:00

Go home