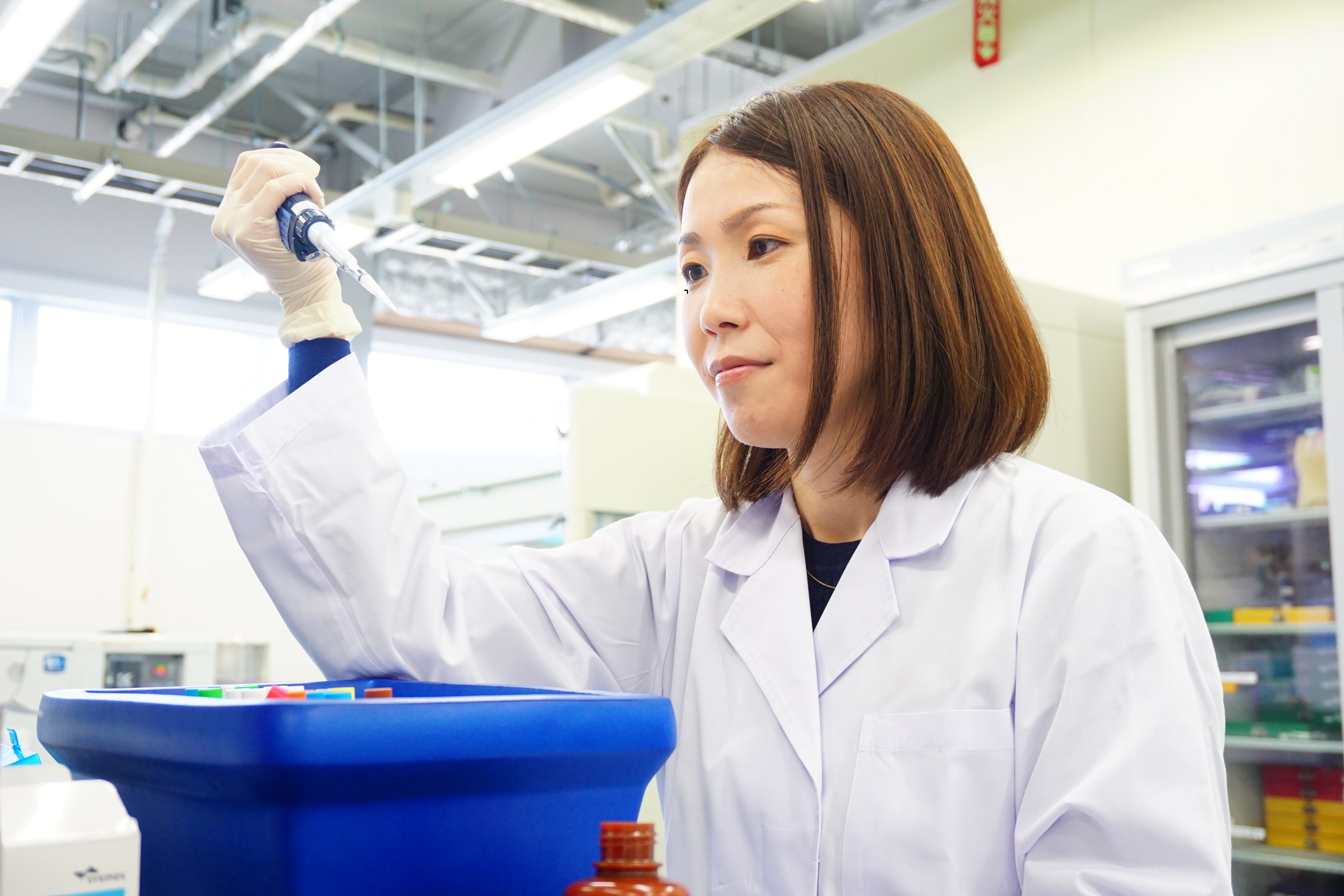 Our daily work leads to
improved QOL for everyone
engaged in medical testing
Joined the company in 2010
New Graduate
Graduate School of Science and Engineering, Department of Creative Science and Engineering
Summary
Experienced all processes related to reagent development.

Created better products by collaborating and cooperating not only with team members but also with other departments.

Balanced work with housework and childcare by taking advantage of various systems.
Current Responsibilities
In the Life Science field, I am in charge of reagent development for OSNA, the cancer lymph node metastasis diagnostic system.
Specifically, this includes improving the manufacturing process of existing products and the raw materials used, operations from determining the reagent composition of new products to market shipment, domestic and overseas (Europe/China) regulatory application, etc. We are engaged in various businesses related to our products. For existing products, we are working with the manufacturing department to shorten and simplify the manufacturing period. By collaborating with the procurement department and reagent raw material manufacturers, we are also considering alternatives in order to both reduce future costs and avoid the risks posed by being unable to procure them.
For new products, we carry out performance confirmation tests to confirm their quality from various aspects. Tests are conducted while examining if the quality and performance of reagent composition meet the market demand. Then we summarize the obtained test results and prepare the domestic and overseas regulatory application documents while coordinating with Regulatory Affairs and related departments in local subsidiaries. When creating products, we cooperate with various departments as well as with our team members.
Sysmex Career
New product development work I started developing new products when I was assigned to this department. I was in charge of examining reagent composition, creating prototypes, and implementing performance confirmation tests. I was able to experience the initial stage of the product development flow.

April (3rd year) - March (6th year)

New product mass production transfer I created diagrams depicting the reagent manufacturing method, observed reagent manufacturing at the factory, and was involved in the transfer of manufacturing methods. I was able to experience the mid stage of the product development flow.

April (6th year) - March (8th year)

Pharmaceutical application business I was responsible for preparing domestic and overseas (Europe/China) regulatory approval application documents ahead of product launch. I was able to experience the final stages of the product development flow.
Q&A
Q. Why did you choose Sysmex?
This was because how I work at Sysmex fits my goals and work style. When I attended Sysmex's company information session, I was impressed by how cheerful the employees who spoke to me were. I intuitively felt that this was a company where I could work for a long time and play an active role. This intuition which I felt during the company information session proved correct, both immediately after joining and even now.
Q. Could you tell me what you find rewarding about your work?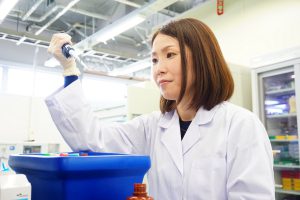 I find it rewarding that the products I am in charge of are always required to be of a high level of quality. All of the results obtained from our daily tests and experiments are important in determining the quality of a product. In addition, inspection engineers have also used the product before I start my work. Beyond that, there are cancer patients and healthy people who are undergoing tests, and this improves all of their QOL. Being able to take charge of products that many people use is a great responsibility and very rewarding. There are various problems in developing a product. Whenever problems arise, the team works together to solve and overcome them. On days when the products we created are shipped, I experience a sense of accomplishment like nothing I've ever felt before, and this also energizes me for my next job.
Q. Could you tell me about balancing your work and private life?
I cherish both my work and private life. I find it difficult to do all of my work and housework/childcare perfectly by myself. Instead of trying to manage everything, my team members and bosses help me with my work, and my husband and children support me in my private life. Thanks to the cooperation of many people around me, I feel satisfied with how I am able to balance my work and private life. At Sysmex, you can work in a way that suits your lifestyle by taking advantage of various systems. Every day, I come to work early in time for my child's nursery school and leave when it's time to pick them up. Another advantage is that employees who require childcare or long-term care can work from home. Sysmex has many caring employees, so in this environment, it is easy to work while raising children.
Daily schedule
8:00

Going to the office

Go to work early depending on what time I take my child to nursery school. After coming to the office, I check my email and do some routine tasks.
9:00

Instructions to team members

Experiments and measurements are shared among the team members to improve work efficiency.
9:30

Creating an analysis file for experimental results

Create an analysis document for the results of the experiments. I collect the results from everyone and ask them to report them later that day.
10:30

Desk work such as preparation for afternoon meetings

Create materials to be used in meetings and organize the contents in advance. In addition, carry out routine desk work such as creating application materials and previous test result reports, etc.
12:00

Lunch

Enjoy a meal in Techno Cafe with colleagues like my team members and those from other departments. Spend time chatting and relaxing with them.
13:00

Meetings

Join a teleconference with related departments and members of local subsidiaries in China. Adjust some of their regulatory applications. Application documents are prepared by the Product Development Group in Japan, and we ask the Regulatory Affairs Department members or the members from the local subsidiary to confirm the contents since they are familiar with overseas applications. As it is often difficult to communicate by email only, we hold conference calls and meetings to discuss with them directly.
16:00

Confirming experimental results

Confirm and consider the experimental results and instruct additional measurements as needed. In addition, use them to consider which experiments to request tomorrow and create experimental materials such as experimental protocols or manuals so that the members can easily carry them out.
17:00

Leaving the office

Leave the office early depending on the nursery school pick-up time. Since there is a flextime system, I can determine my working hours to suit my own pace.